Bulldog boys have semi-sweet week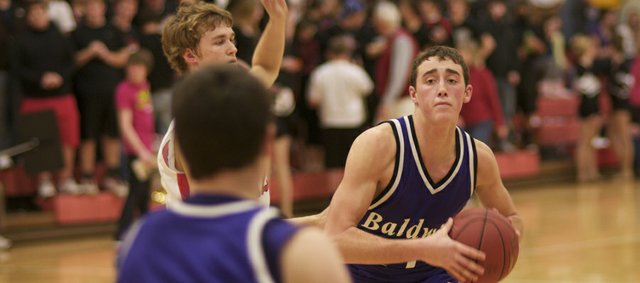 Ottawa — The Baldwin High School boys basketball team took a 5-3 lead in the early minutes of Tuesday's game at Ottawa, and then Semi Ojeleye arrived.
The Duke University signee scored his first points more than two minutes into the game on a 3-pointer. He would follow with another 3-pointer and two dunks as he helped the state's top-ranked 4A team to a 21-7 advantage at the end of the first period.
The Cyclones' senior star would add 10 more points in the second quarter, nine in the third and finish the night with a game-high 37 points as undefeated Ottawa downed Baldwin, 71-43, in Frontier League play.
Baldwin coach Dustin Leochner said he told his players before the game they would have to play nearly perfect ball to have a chance at winning. Poor defensive rebounding early contributed to Ottawa's first-quarter break out, and the Cyclones' forced the Bulldogs into turnovers, he said.
"They're more than a one-man team," Leochner said. "They have a very solid senior point guard and have a lot of length and quickness on defense."
Despite the one-sided loss, Leochner was not ready to concede the rematch in Baldwin.
"We'll look at the film and try to come up with some things we can do to beat them," he said. "We tried some things tonight. We'll keep trying."
Cornell Brown lead Baldwin with 15 points, and Tim Craig finished the game with 8.
One positive from the game was the seasonal debut of junior guard Chad Berg, who has been sidelined with an injury suffered in the Bulldogs final football game.
"He's still limping on that leg a little so we didn't know if we were going to play him, but he said he was 14 for 14 warming up at halftime of the girls game," Loechner said. "It was good to see him out there.
"He's getting back in game shape little-by-little every day."
The loss halted a two-game winning streak for the Bulldogs, who defeated Louisburg, 52-46, Friday night at home. Michael Burton scored 14 points, and Tim Craig and Caleb Gaylord each added nine to lead Baldwin.
With Tuesday's loss, Baldwin fell to 5-3 overall and 2-2 in Frontier League play.
The Bulldogs return home Friday to play Frontier League opponent Spring Hill.
The challenge against Spring Hill is not to get caught up in the fast-paced, up-tempo game the Broncos favor, Leochner said.
"We better be ready to go Friday," he said.
Ottawa 71, Baldwin 43
Baldwin ( 4-3) 7 15 15 5 — 43
Ottawa (9-0) 21 21 19 10 — 71
Baldwin: Tim Craig 8, Cornell Brown 15, Luke Fursman 7, Michael Burton 2, Caleb Gaylord 2, Quinn Twombly 2, Christian Gaylord 7
Ottawa: Kaden Shaffer 10, Alex Hasty 13, Dallas Natt 5, Austin Blaue 2, Wyatt Petters 4, Semi Ojeleye 37
Three-point baskets: Baldwin, Craig, Fursman; Ottawa, Ojeleye 3, Shaffer 2, Peters