Baldwin girls making statement in league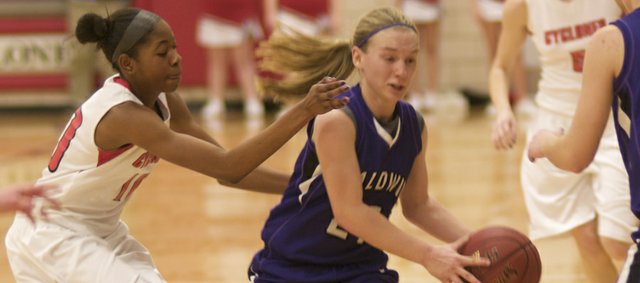 Ottawa — The Baldwin girls basketball team overcame a scoreless third quarter Tuesday to notch its third-straight Frontier League win with a 40-32 victory against Ottawa.
The road win, coming on the heels of the Baldwin's 44-31 victory Friday at home against Louisburg, improved the Bulldogs record to 6-2 and 3-1 in the Frontier League with two of the wins coming on the road.
The Bulldogs, who have struggled on offense at times this year, started the game hot, taking a 13-5 lead at the end of the first quarter and had 24-13 advantage at the half.
Baldwin had success getting the ball in the lane. Senior post players Jessie Katzer and Katie Kehl provided much of the early firepower, combining for 12 of the team's 24 points in the first half.
"They did things well early," Baldwin coach Bob Martin said. "We moved the ball well and got it inside."
The Bulldogs' solid offensive work disappeared in the scoreless third quarter. Martin said it much of that was due to Ottawa, which has all but two of its starters back from last year's state team.
"They came out after us in the third quarter," he said. "We didn't respond with poise, but give Ottawa credit. They came out and put a lot of pressure on the ball."
Ottawa's half-court pressure forced numerous turnovers and allowed the Cyclones to get back get back into the game. The home team took the lead on a basket from sophomore Corie Fischer with about a minute left in the third period.
Baldwin finally broke its scoring drought 1 minute and 40 seconds into the fourth quarter on a basket by Kehl. After a Katzer free throw, Ottawa would retake the lead, 28-27, on a 3-pointer.
Baldwin regained the lead for good when Kailyn Smith stole the ball and found Kehl in the lane on the fast break. Kehl added a free throw on the play, giving the Bulldogs a 30-28 lead.
Junior guard Katie Jones got down an important basket with 2:30 to play, which gave Baldwin a 32-28 lead. On its next possession, Baldwin patiently worked the clock until junior Kailyn Smith scored and was fouled on a drive from the right side of the lane. The three-point play gave the Bulldogs a 35-29 advantage with 1:15 remaining.
"I was really pleased with how we responded in the fourth quarter," Martin said. "I think we showed a lot of poise."
The Bulldogs will try for their fourth straight league win on Friday when they play host to Spring Hill, which has lost three of its last four.