Baldwin City Public Works employees share annual city honor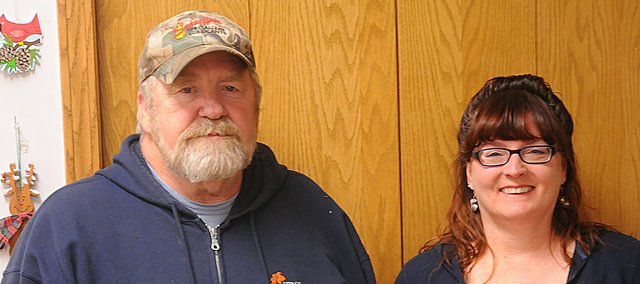 The Baldwin City Public Works Department swept the city's annual employee awards.
Bill Winegar was voted Supervisor of the Year, and Tamara Hagerman and Gary Murray were recognized as Outstanding Achievers of the Year.
Hagerman, who came to the city in 2001 after working as an office manager for a Lawrence veterinarian, is an important cog in the city's paperwork chain for planning and zoning, while Murray provides hands-on maintenance at Oakwood Cemetery, the swimming pool and the downtown water fountain.
But both have proven willing to take on added duties when the city is short on staff elsewhere, Winegar said.
Hagerman is the first point of contact at the public works department for people who have questions about building permits, zoning codes or utility questions.
"I enjoy meeting people, and I've gotten to meet a lot of people in this town through this job," she said. "I like my fellow employees and pitching in when people need help."
Hagerman also helps process new building permits and takes minutes for the Baldwin City Planning Commission.
In addition to her city duties, Hagerman is president of the Kansas City Association of Permit Technicians.
Murray has worked at the cemetery since 1998, first for the cemetery board and then for the city when it agreed to take over its operation.
"I try to keep it looking nice," he said. "I just enjoy being out there."
He is also the cemetery's historian, keeping track of plot ownership and where people are buried. With that knowledge, he helps people pick out plots or find graves of ancestors.
In addition to his cemetery duties, Murray works at the swimming pool during the summer, performs maintenance at the downtown fountain and clears downtown sidewalks during winter storms.
Hagerman said she would have given her award to others who joined her in helping out in City Hall and elsewhere when there were staff shortfalls in the last year.
"There are probably 12 public works employees," she said. "They take care of streets, the water department, the sewer department and push snow.
"They do a lot. I don't think people realize how much they do."