Baldwin will be looking for 3rd victory against Ottawa in sub-state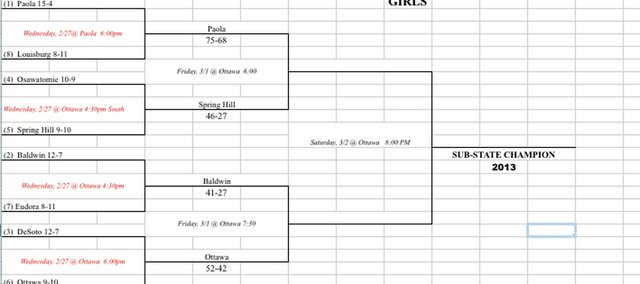 The Baldwin girls will play Ottawa at 7:30 p.m. Friday at Ottawa for the chance to play in the sub-state finals.
The sixth-seeded Ottawa upset second-seeded De Soto, 52-42, Wednesday to move on in the sub-state tournament, evening its record at 10-10. On the other side of the bracket, top-seeded Paola advanced to the semi-finals with a 75-68 win against Louisburg and will play fifth-seeded Spring Hill, which had an easy 46-27 victory against Osawatomie.
Baldwin, 13-7, has two wins against Ottawa this year. The Bulldogs won in January at Ottawa, 40-32 in a game that wasn't decided until the fourth quarter but in which they lead most of the way. Baldwin ended a three-game losing streak Feb. 15 with a senior night 35-33 overtime victory against the Cyclones.