MLS

All-Star Game coming to Sporting Park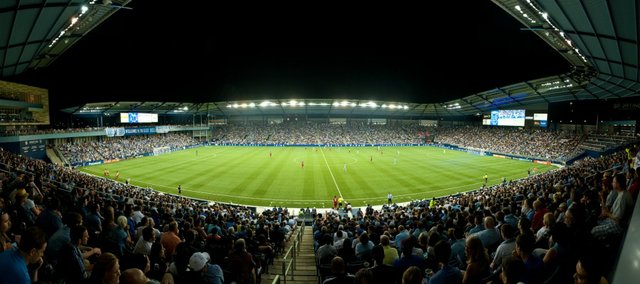 Kansas City sports fans got a taste of the national spotlight when the Major League Baseball All-Star Game made its way to Kauffman Stadium last July. As it turns out, the city won't have to wait long to once again play host to some of the country's top athletes.
On Jan. 10, Major League Soccer announced Sporting Park — home of Sporting Kansas City since June 2011 — as the host of the 18th annual All-Star Game, to be played in front of a national television audience on July 31.
"We like to make a push for all the big events," said Rob Thomson, executive vice president of communications at Sporting Park. "Since our stadium opened a year and a half ago, we've had some huge events. Whether it's the attention or other players seeing our stadium, we love being on the big stage."
The MLS All-Stars will play an international team to be announced at a later date. They earned a 3-2 win against Chelsea in last year's All-Star Game, played at the Philadelphia Union's PPL Park. The All-Stars are 6-2-1 all-time against international clubs.
Similar to MLB All-Star weekend, there will be events in the days preceding the game itself. A schedule has yet to be announced.
"You'll see a ton of major soccer celebrities and stars in town," Thomson said. "There will be huge community events that will benefit local charities, and there will be other big festivities, parties, gala events and dinners. MLS does a good job with their events."
Sporting Kansas City — formerly the Kansas City Wizards — is the last of the 10 original MLS teams to play host to an All-Star game, but the franchise has hardly been short on thrills in recent years. The team defeated Manchester United in 2010 at Arrowhead Stadium in front of a crowd of more than 55,000, and thousands of fans flocked to Kansas City's Power and Light District that same year for a team-sponsored World Cup watch party.
Marquee events — several not directly related to Sporting KC — have been just as prevalent since the team moved to Sporting Park. The United States men's and women's national teams have each made stops in Kansas City, and the stadium was one of just three venues to play host to a CONCACAF (Confederation of North, Central American and Caribbean Association Football) men's Olympic qualifying tournament last spring.
Fans haven't just shown up for special events, either, as Sporting KC sold out 17 of its 18 home games last year, including a U.S. Open Cup victory against the Seattle Sounders on Aug. 9.
"That's just one more example of the work that's been done in Kansas City," Thomson said. "It started with our fans and the support they've shown. They understand the game; they're very well-versed in soccer, which has been a sped-up process in the last four or five years."