KCKCC

, Providence among those offering healthcare opportunities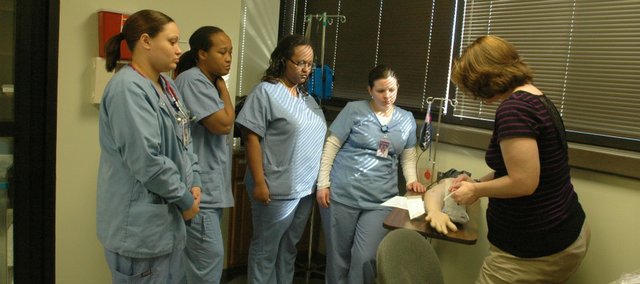 Training and job opportunities in the healthcare field abound in and around Wyandotte County.
At Kansas City Kansas Community College, educational opportunities include the registered nurse and licensed practical nurse programs.
"And then we have two variations where the LPN can become an RN, and also the variation where a respiratory therapist or paramedic can become an RN," said Shirley Wendel, dean of allied health and nursing.
Other options include the physical therapy assistant program, exercise science, mortuary science and EMT technician training. And while an associate degree is the highest educational level available at the two-year college, KCKCC has agreements with other schools — such as Kansas University — that allow students to complete degrees in fewer than four years, Wendel said.
The registered nursing program at KCKCC attracts about 250 students, Wendel said.
"We're one of the largest programs in the state," she said. "We've been at capacity since 2006."
The school admits 60 new students into the program each semester, she said.

In refocus mode
Part of the Sisters of Charity of Leavenworth Health System, the University of St. Mary has "a very good reputation, particularly in nursing education," said spokesman John Shultz.
But of late, he said, the college has made some updates to its healthcare education offerings, he said, "more finely focusing on health care education right now."
In June 2012, St. Mary launched its first doctorate program, offering students the chance to earn a doctor of physical therapy.
"The DPT has been tremendously popular," Shultz said.
In 2011, the college also began offering students a chance to earn an accelerated nursing degree.
"The point of that program is for folks who are looking basically for a second career," Shultz said.
Other offerings include the health information management program, as well as an online program for students who already hold an associate's degree as a registered nurse but are looking to pursue a bachelor's degree.
Shultz said about 150 students from across the county are taking part in the online program.
What about after the diploma?
Wendel and Shultz said it can be tough to land a job as a nurse or other healthcare provider.
"It's probably been the tightest I've ever seen it in 40 years," Wendel said. "But (employers are) still hiring … there's more job openings in healthcare than other fields."
And hospitals in Wyandotte County say they are looking to hire new graduates.
"We like to hire new grads, most places do," said Kendra Consiglio, human resources business partner for Providence Medical Center in Kansas City, Kan. "It gives you the opportunity to really teach that individual how the things work on your floors specifically to the care that maybe this gives or each unit gives."
Consiglio said Providence has several staff nursing positions open right now, and generally hires more than 200 people a year for different areas of the hospital.
On what stands out to Consiglio when looking at applicants, she said attention to detail goes a long way.
"I look at how they have formatted their actual resume," she said, noting that spelling errors are enough for a resume to go to the bottom of the pile. "(I need to see) that they've taken the time to put that together and present it in a professional nature."
Cynthia Smith, recruitment manager for the KU Hospital in Kansas City, Kan., estimated the hospital hired more than 1,500 people in 2012 — largely due to the hospital's purchase of the Heartland Healthcare Center in Overland Park and because the hospital earned status as a National Cancer Center Institute.
"And with that achievement comes a lot of positions around research and new specialty areas," she said.
Smith said the hospital hired 175 new clinical nursing positions last year, and is beginning the hiring process for more nurses now. Other open positions include those in allied health, management and information technology.
"I think it always helps to have some type of more directed to the healthcare lines of education, but it doesn't have to be," Smith said of applicants for a position at KU Hospital. "We have many positions that are just requiring a high school diploma. … We always tell people, get in now, at whatever level you are. And then we will assist you to go to the next level, because we're an academic medical center. Academia's what we're about."