Kansas Speedway unveils road course, adds Grand-Am to schedule
Track will debut under lights in August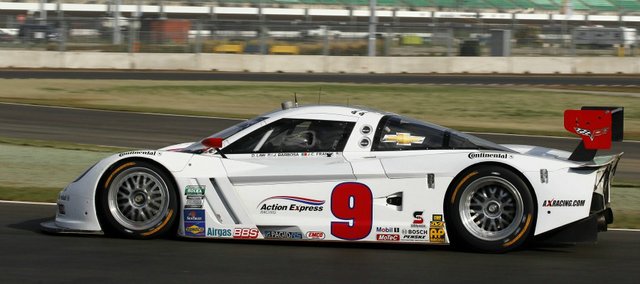 Since first opening its gates in 2001, Kansas Speedway has established itself as one of the premier venues in all of stock car racing. Beginning this summer, it will have the opportunity to make its mark "inside" the oval.
A new, 2.37-mile infield road course will make its national debut under the lights on Aug. 16 when the Grand-Am Rolex Sports Car Series and Continental Sports Car Challenge Series make their first-ever stop in Kansas.
"In some way, shape or form, (a road course) has always been talked about at the speedway," said Chris Schwartz, vice president of marketing and sales. "It started to become reality four or five years ago as the casino license started to become a reality. We're excited about it. It exposes the speedway to a group of people that normally wouldn't be thinking about us."
Construction of the new track began when Kansas Speedway began repaving its oval after the STP 400 on April 22, 2012. The track was completed on Sept. 22 and first tested by Grand-Am racing teams at a public event on Oct. 28-29.
"The drivers, they absolutely gushed about the challenge of the course, how fast it was, and the setting," Schwartz said. "That's something we take great pride in: representing Kansas City and the region. We passed our first test, if you will, with flying colors."
In addition to road racing, the new track will allow for Formula One, motorcycle and go-cart events.
The addition of Kansas to the Grand-Am schedule gives local road racing fans the chance to see events they used to have to travel across multiple state lines to attend. The next-closest event on the 2013 schedule will take place nearly 500 miles away at the Indianapolis Motor Speedway.
Kansas Speedway joins Circuit of the Americas in Austin, Texas, as new additions to the road racing schedule.
The inaugural race in August will mark just the third time Kansas has played host to a night event since lights were added to the track in early 2011.
"Road racing is pretty spectacular," said Herb Branham, Grand-Am's managing director of communications. "There's a lot of action, which is really even more highlighted with the headlights on. It's a pretty great spectacle. All the stars are aligned for this to be a great debut for Grand-Am at Kansas Speedway."
Branham added that Kansas is already considered a top candidate for Grand-Am's joint schedule with the American Le Mans Series in 2014. The organizations announced a merger in September.
Fans can already purchase tickets for the inaugural Grand-Am event, but additional event details have yet to be announced. The speedway will open its 2013 racing schedule on April 20-21 with the SPF 250 and the STP 400 — the first two of six events.
"Our schedule this year is one that we're proud of," Schwartz said. "We've got a busy season at the speedway, but we're looking forward to a great year."