Baldwin
USD

348's Performing Arts Center about ready for community shelter use
Baldwin
USD

348's Performing Arts Center about ready for community shelter use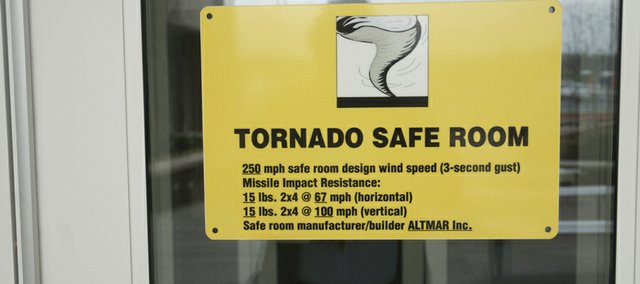 Nearly everything is in place for the use of Baldwin USD 348's Performing Arts Center as a community storm shelter during non-school hours.
Baldwin USD 348 Superintendent Paul Dorathy said remotely controlled locks for the center's north doors have been installed but a code allowing remote access has not been programmed into the district's server.
"We're really close," he said. "The IT guys are working on the programming."
Dorathy said he or other district employees would remotely unlock the doors during a tornado warning. As a fail safe, a phone number is posted on the north doors, which will give callers access to the code needed to unlock the doors, Dorathy said.
One year ago Thursday, about 60 Baldwin City residents seeking shelter at the center found it locked after a tornado warning was issued when a funnel was spotted west of the city.
A Federal Emergency Management Agency grant provided 75 percent of the $4.5 million the Performing Arts Center cost so the building, which opened in May 2011, could be constructed to withstand an F-5 tornado. But in January 2012, its use as a community shelter during non-school hours was ruled out because of Baldwin City's inability to assure emergency personnel would be at the center in a time of community crisis and the school district's concerns about liability if community members were in the auditorium with no supervision.
Dorathy found a solution to the problem in March that gained the school board's approval. The plan placed video cameras in the auditorium to monitor actions of those seeking shelter and installation of remote-controlled locks to the center's doors.
The city has agreed to cooperate with the district in opening the center as a community shelter. City Administrator Chris Lowe said the city has established a procedure that has a police officer — if not called to an emergency elsewhere during a storm — going to the center to "tuck in" those seeking shelter and staying as long as possible.

"It's not like we didn't want to provide help," Lowe said. "It was just a manpower issue. There was no way we could commit to having the instantaneous ability to have someone available to open, close and manage that facility."
Although the center would be open to all during tornado warnings, people who live farther than 10 minutes away should not use the shelter, Dorathy said.
"Emergency management people have said if residents can't get there within 10 minutes of a tornado warning, they are better off looking at other options," he said.