Baldwin girls advance in sub-state play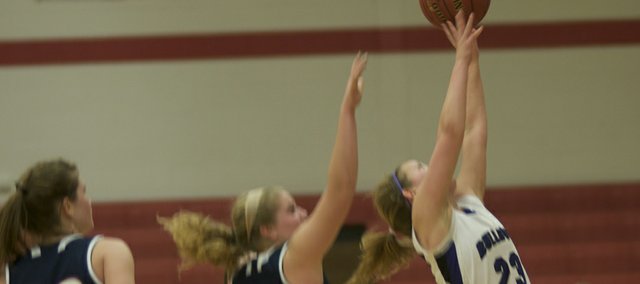 Ottawa — Baldwin found itself with a five-point lead at the start of the fourth quarter of its first-round sub-state game against Eudora, a position the team hasn't found all that comfortable this season.
The Bulldogs have given up larger fourth-quarter leads this year, including a 10-point advantage in a Feb. 5 home loss to Eudora. But Wednesday, senior guard Kailyn Smith made sure there would be no repeat of past fourth-quarter woes, scoring five points in the first 1:20 of the period and seven in the quarter as Baldwin blister Eudora with a 20-point fourth quarter on its way to a 41-27 victory.
Helping Smith in the quarter was junior guard Katie Jones, who scored seven of her nine points in the fourth period, and sophomore Maddie Ogle, who added four points in the quarter.
"We didn't want the season to be over," Smith said. "We knew how we've played previously in the fourth quarter. We came out and played tough basketball."
Baldwin took the lead it would never relinquish with 4:10 to play in the first quarter. The closest the Cardinals would get was 13-14 with 5:10 to play in the third quarter. Smith quickly answered with a 3-pointer to give the Bulldogs a cushion.
The game also saw the return of Baldwin's defense, which as been solid all year but burned for 54 points in its three-point loss at Louisburg in what turned out to be the team's final regular-season game.
On Wednesday, the Bulldogs held Eudora to two first-quarter points and nine in the first half. A key was controlling Eudora junior post player Allison Webb.
"She hurt us last time," Baldwin coach Bob Martin said. "Katie Kehl did a great job on her with a lot of help from her teammates."
The Bulldogs also used full-court pressure to disrupt Eudora's offensive flow, Martin said.
"We didn't want their guards to get comfortable," he said. "If you give them time, they will pick you apart — like they did the last time against us."
With the win, Baldwin advances to play the winner of the De Soto-Ottawa game on Friday. The game time has not yet been announced.
Baldwin has a 3-0 record against the two teams with two wins against Ottawa. All three games have been close, and two have been games in which Baldwin made late-game comebacks.
Smith and Martin said the Bulldogs expected a tough game Friday.
"I'm don't want to play Ottawa here, but I think De Soto might be the better team," Martin said.
Second-seeded De Soto took a 12-7 record into the sub-state and finished second in the Frontier League to top-seed Paola. Ottawa had a 9-10 regular season record and was 4-7 in the Frontier League.
Baldwin 40, Eudora 27
Baldwin (13-7) 7 5 9 20 – 41
Eudora (8-12) 2 7 7 11 – 27
Baldwin: Alexis Stein 2, Maddie Ogle 8, Katie Jones 9, Kailyn Smith 14, Callie Enick 1, Jessie Katzer 5, Katie Kehl 2
Eudora: McKenzie Oiler 2, Abbigail Richeson 9, Emma Beck 2, Cierra Richeson 6, Allison Webb 6, Madison Maring 2