Work resumes on downtown Mexican restaurant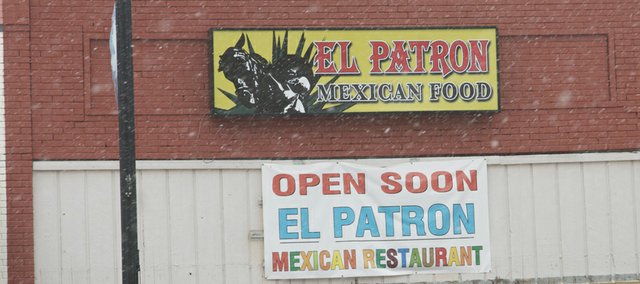 An "open soon" banner hanging on the façade of what is to be El Patron was joined last week by a permanent sign for the restaurant, an indication that the five-month promise of the banner is about to be realized.
"We will for sure be open by the end of March, but we're hoping we can be open in two to three weeks," said Thomas De La Paz, who is directing work on the new Mexican restaurant.
Beto Aquilar, El Patron's co-owner, had hoped to open the restaurant in the old Wheat State Pizza by last August. He had thought there would be little work needed to convert the 711 Eighth Street site, which shares ownership with the El Mezcal restaurants in Lawrence.
August came and went with no opening and the only sign of progress in succeeding months was the "open soon" banner and long sheets of brown wrapping paper taped to the front windows.
The owners had some difficulty getting permits, but most of the delay was because of their busy schedules from involvement in other restaurants, De La Paz said.
Activity started to pick up in the past month after a dumpster was placed behind the building.
"We did a lot more work than we thought we would," De La Paz said.
The work is evident in the dining area, which looks nothing like its days as a pizza parlor. The old wheat field mural on the south wall has been replaced with two paintings reflecting El Patron's Mexican restaurant theme. A wall has been erected with arched nooks to give newly installed booths privacy.
The kitchen also has been remodeled, and city inspectors came by Monday morning to check it out. De La Paz said he expected a permit for the kitchen to be issued this week.
De La Paz said there has been a great deal of interest in recent days as it became obvious that work had restarted at the site. The restaurant, which he said would be managed by Noel Ortiz, will have a menu very similar to the El Mezcal restaurants. In addition, El Patron will offer mixed drinks, De La Paz said.
El Patron's hours will be 11 a.m. to 9 p.m. Monday through Thursday and 11 a.m. to 10 p.m. Friday and Saturday. But De La Paz said that could change.
"We want to offer a breakfast, too," he said. "We might be open every day from 7 in the morning to 9 at night. "