Wet, heavy snow covers Baldwin City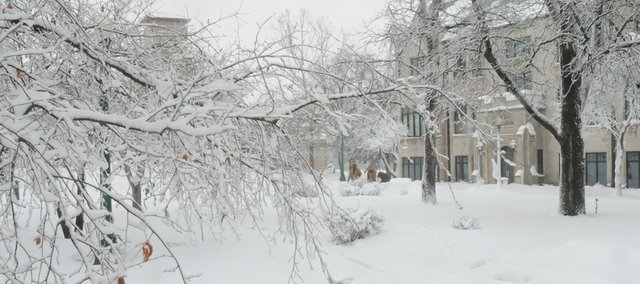 Winter storm Q2 blew through the Baldwin City area early Tuesday morning, leaving about 8 inches of new snow on the community still snow covered with some of the 10 inches of snow from Thursday's blizzard.
The latest storm wasn't a replay, however, as it fell during much warmer temperatures. The heavy snow that resulted made for beautiful winter wonderland landscapes but caused problems as snow-burdened tree limbs and brisk accompanying winds caused power, cable TV and Internet outages.
Shoveling the sidewalk Tuesday morning in front of City Hall, City Administrator Chris Lowe said he sent City Hall office employees who made it to the office home Tuesday morning.
Other city employees were mobilized throughout the night and morning, addressing power outages and clearing city streets. Lowe said outages were worse on the north side of town and effected the Fire Tree and Signal Hill subdivisions at about 6:30 a.m. All power in the city was restored by 9 a.m., he said.
The city power plant was generating Tuesday and supplying the city because wholesale transmission connections were iffy, Lowe said. While Baldwin City enjoyed electrical power, other nearby communities, such as Wellsville, were not so fortunate.
"That asset is why we have power and not in the dark tonight waiting in line for Westar or KCP&L to get to us," the city administrator said.
City crews started clearing city streets early Tuesday morning, Lowe said. Progress was evident as the city's primary streets were passable by late morning and plows had begun to move to side streets. Lowe said if the snow stopped, he would probably send crews home in mid-afternoon.
Lowe said the police and fire departments reported they worked no accidents or incidents during the storm.
"It sounds like people are being safe and staying home," he said.
As had been the case Thursday, most downtown businesses and offices were closed. Tuesday closures included the Post Office. Through the locked doors to the business counter, a postal clerk from out of town and who did not want to be identified, said none of the Baldwin City employees were able to make it to work Tuesday and that there would be no mail deliveries.
She was sorting some of the mail that came in Tuesday morning and would put what she could in mailboxes at the Post Office, she said.
Enjoying a break at the Santa Fe Trail Market on U.S. Highway 56, Lt. Josh Kellerman of the Kansas Highway Patrol said he had been on duty on U.S. Highway 59 since 6 a.m. There was drifting on U.S. 56 and other east-west roads, he said. U.S. 59 was snow packed south of the Pleasant Grove hill to Ottawa, he said.
Kansas Department of Transportation crews were doing a good job on both highways but KDOT spokesmen were advising motorists to wait until mid-afternoon before traveling on local highways, Kellerman said.
"That will give them time to remove more snow, get the exits and entrance ramps and even remove the slush on the shoulders," he said.
Santa Fe Market owner Frank Foye said business was good Tuesday morning despite the storm.
"We've had a lot of law enforcement and crews cleaning the streets," he said. "I've seen a lot of new faces."