New city clerk brings diverse background to Baldwin City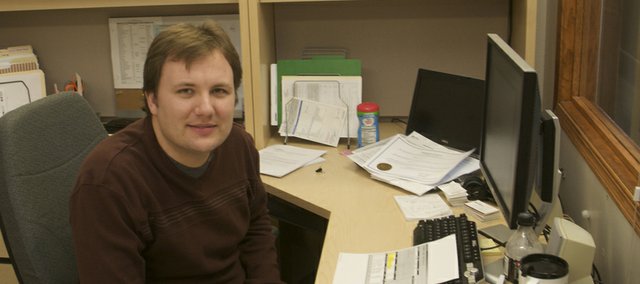 Collin Bielser could be nicknamed "Slash."
Hired last week as Baldwin City's new city clerk, Bielser will spend 50 percent of his time as community development director. That's right in the sweet spot of a man who has master's degrees in urban planning and public administration from Kansas University.
Job title multitasking is nothing new to Bielser. After interning for a year with Douglas County and a stint with the Mid-America Regional Council, Bielser started his professional career two years ago in Eudora, where his job included planning and economic development as well as some duties with the Eudora Chamber of Commerce.
"It was a great experience," he said. "It was a great place to start a career."
Still, Bielser was excited about the opportunity that opened up in Baldwin City with the departure Jan. 1 of former city clerk Darcy Higgins.
A lot of his clerk duties involve bureaucratic paperwork as outlined by state statute, Bielser acknowledged. But as city clerk he will also be involved in human resources and have the chance to get more experience in the budget than at Eudora, he said.
A top priority in preparing for his community development duties is studying the city's comprehensive plan and reviewing regulations, Bielser said.
He said he looked forward to helping developers and applicants through the city's permit process and getting their projects from the drawing table to completion.
Having grown up in Colby, Bielser was he was comfortable with small towns, as is his wife, Hali, who grew up in Council Grove. The two now live in Eudora but plan to move to Baldwin City when their current lease expires in June. "We're really looking forward to being part of the Baldwin community," he said.
Bielser admits to aspirations beyond his current job, as might be expected of someone with his education and experience.
"My goal is to be a city manager or administrator some day," he said. "I don't know when that will be. I'm in no rush."