Shoemaker in semis at state wrestling
Five Bulldogs still vying for medals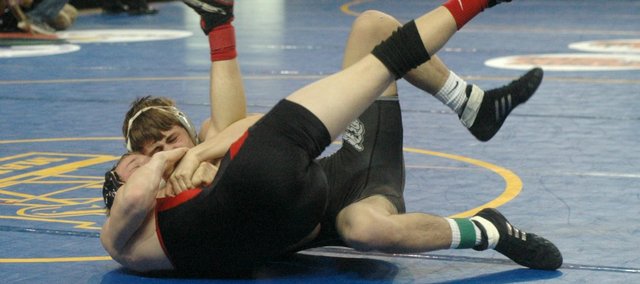 Salina — After two rounds at the Class 4A state wrestling tournament, Baldwin High senior Bryce Shoemaker is in position to avenge his 2012 championship loss.
Shoemaker, a state runner-up last season at 126 pounds, went 2-0 Friday to reach the semifinals in the 138-pound bracket. He was the only Bulldog to wrestle his way to the round of four and can secure a spot in the finals Saturday with a win against Andrew Cannon of Osawatomie.
Other BHS wrestlers still vying for medals are Jon Pratt (120), Tucker Clark (132), Mark Harman (170) and Tiler Garcia (220). Pratt won his opening match, but fell in the quarterfinals. Meanwhile, Clark, Harman and Garcia rebounded from first-round losses with wins in the first consolation round.
Colton Horne (152) and Mario Garcia (182) were both eliminated after going 0-2 in Friday's competition. The Bulldogs finished sixth in the team standings at last year's tournament, but currently sit at 17th with 20.5 points — 24 behind leader and defending state champ Andale.
Action will resume at 10 a.m. Saturday with the championship semifinals and consolation quarterfinals. With the exception of Shoemaker, all remaining Baldwin wrestlers must win two more matches to avoid elimination and reach the medal rounds.
Top 10 team scores
Andale, 44.5; 2. Colby, 44; 3. Chanute, 42; 4. Prairie View, 38; 5. Bonner Springs, 34; 6. Tonganoxie, 32.5; 7. El Dorado, 32; 8. Holton, 31.5; 9. Augusta, 31; 10. Royal Valley, 26.
BHS individual results
Name, Record, Next opponent
120 — Jon Pratt, 1-1, Nate Holloman (Jeff West)
132 — Tucker Clark, 1-1, Chase Cole (Chanute)
138 — Bryce Shoemaker, 2-0, Andrew Cannon (Osawatomie)
152 — Colton Horne, 0-2 (N/A)
170 — Mark Harman, 1-1, Kolby Fennewald (Mulvane)
182 — Mario Garcia, 0-2 (N/A)
220 — Tiler Garcia, 1-1, Otto Orosco (Ulysses)