Shoemaker ends wrestling career as state champ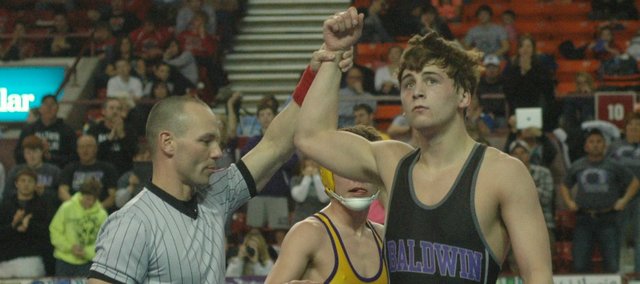 Salina — Three years ago, Bryce Shoemaker ended his first high school wrestling season as a state champion. Saturday night, he wrapped up his career in the same fashion.
Shoemaker became Baldwin High's first two-time state champ, winning the 138-pound title at the Class 4A state tournament in Salina.
"I've been working on this the whole year," said Shoemaker, who ended the season at 45-2. "I haven't won a state title since freshman year. It was do-or-die this year, so I had to work my butt off almost every day."
The Bulldog senior went 4-0 in his weight class and clinched the title with a 7-0 victory against a familiar opponent in Spring Hill's Corey Spader. The duo had faced off several times this season, including last week's regional championship match in Tonganoxie.
Sophomore Jon Pratt won Baldwin's only other individual medal, going 4-2 to finish fifth at 120 pounds. He had to win his first two matches of the day to avoid elimination.
Three other Bulldogs entered Saturday's competition with a shot at medaling, but Tucker Clark (132), Mark Harman (170) and Tiler Garcia (220) were all eliminated after dropping their opening matches.
Colton Horne (152) and Mario Garcia (182) saw their seasons come to an end Friday when they suffered losses in the first and second rounds.
Baldwin finished tied for 13th in the team standings with 45.5 points. Holton won the overall title with a score of 104.5.
Top 10 team scores
Holton, 104.5; 2. Colby, 96; 3. Andale, 90.5; 4. Bonner Springs, 90; 5. Prairie View, 85; 6. El Dorado, 78; 7. Pratt, 62; 8. Fort Scott, 59.5; 9. Chanute, 59; 10. Tonganoxie, 54.5.
BHS individual results
120 — Jon Pratt, 4-2 (Fifth)
132 — Tucker Clark, 1-2 (N/A)
138 — Bryce Shoemaker, 4-0 (First)
152 — Colton Horne, 0-2 (N/A)
170 — Mark Harman, 1-2 (N/A)
182 — Mario Garcia, 0-2 (N/A)
220 — Tiler Garcia, 1-2 (N/A)