Winter storm closes Baldwin City down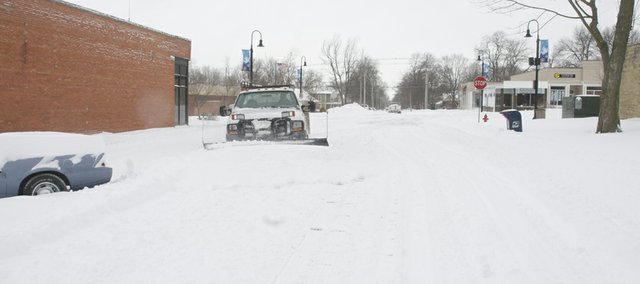 Filling up with gasoline about 11:30 this morning at the Baldwin City Kwik Shop, Kansas Highway Patrol Trooper James Taylor had advice for would-be motorists.
"Stay warm. Stay safe. Stay off the roads."
Taylor said Kansas Department of Transportation crews were working on both U.S. Highways 56 and 59. U.S. 56 was open for one-lane traffic and U.S. 59's north and south lanes had one lane open, he said.
Although the storm that dumped from 10 inches to a foot of snow on the area had mostly stopped by that time, strong winds from the east were causing drifting on flat, open stretches of road, Taylor said.
Unless someone finds thrilling the sight of snow being pushed around there wasn't much reason not to follow the state trooper's advice. USD 348 schools, Baker University, Baldwin City offices, Rainbow Child Care, Baldwin City Recreation Commission, Baldwin City Library, the Lumberyard Arts Center and most businesses are closed. The only downtown businesses open are The Town Galleria and the Baldwin State Bank.
USD 348 Superintendent Paul Dorathy said late Thursday afternoon Baldwin schools would be closed Friday. The school's basketball games at De Soto originally scheduled for Thursday were also a victim of the storm. The games have been canceled and will not be made up.
The U.S. Post Office was open, too, although the office didn't have a customer all morning, clerk Lisa Adkinson said. Mail probably wouldn't be delivered Thursday, she said.
"We had a couple of carriers try to deliver, but they got stuck," she said about 11 a.m. "We're waiting to hear from higher up what we should do."
Adkinson said she drove to Baldwin City early Thursday morning from Richmond, and was prepared to spend the night at the post office, as were other out-of-town employees.
Just up the street, city employee Dana Rockers was taking a break in the closed Baldwin City Recreation Office from clearing downtown sidewalks. He, too had a harrowing drive to work on his daily commute from his home 10 miles west of Baldwin City on U.S. 56.
"The visibility was so bad I could hardly see," he said. "People were stopping in the middle of the road to clean their windshields and you could barely see them."
Also open downtown was the Baldwin City Fire Department. Ben Jones, one of two firefighters on duty, said all had been quiet. He hoped it would stay that way, and he and other firefighters could avoid fighting cold-weather fires such as the one he heard reported near Paola. But if there was a need to respond to an emergency, the trucks were chained and ready to go, and firefighters around town were ready to respond, he said.
City crews had opened main thoroughfares and by noon were starting to move to side streets.
The Kwik Shop, Santa Fe Market and Baldwin City Market were open on U.S. 56. Kwik Shop clerk Kim Kindred said business had been slow but steady.
"We had a lot of people this morning on the way to work," she said. "A lot of them said they gave it a try but couldn't make it."