Last-minute free throws carry Baldwin past Spring Hill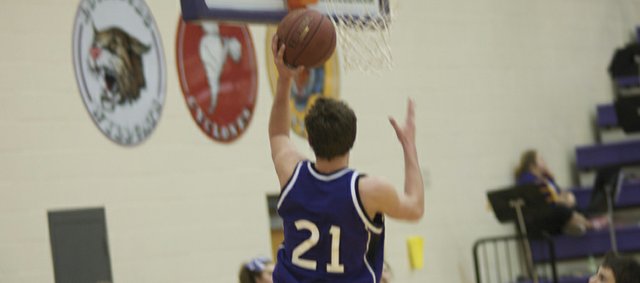 Spring Hill — Baldwin made six-straight free throws in the final minute, putting an end to a Spring Hill comeback and giving the Bulldogs a 54-46 victory.
It didn't look for most of the night as if Baldwin would need any late-game heroics to win the game. The Bulldogs were in control most of the night and appeared to have the Broncos on the ropes when Luke Fursman, who scored a game-high 19 points, made 1-of-2 free throws, giving Baldwin its first double-digit lead at 37-27 with 5:43 left in the third period.
But Spring Hill quickly got back in the game with two 3-pointers and would connect on another shot from beyond the arc before the period ended. Meanwhile, Baldwin continued to miss uncontested layups (the Bulldogs hit just 4-of-11 layups). The result was a tight game heading to the fourth quarter with the Bulldogs clinging to a 40-39 lead.
Spring hill junior Chris Bybee quickly put the Broncos on top with yet another 3-pointer in the opening possession of the fourth quarter.
Spring Hill would maintain the lead until junior Chad Berg connected on a 3-pointer of his own with 3:31 remaining in the game, giving Baldwin a 46-44 lead. After Spring Hill answered to tie the game, Fursman would score again on a fast break, giving Baldwin the lead for good at 48-46 with 1:17 remaining.
Berg went 4-for-4 from the line and Fursman 2-for-2 in the last minute as Baldwin sealed the win.
Baldwin coach Dustin Leochner was pleased with his team's poise in handling the fourth-quarter adversity but upset with his team's overall play.
"We missed a lot of bunnies and gave up a lot of offensive rebounds," he said. "We lost track of shooters too many times. We need to come out ready to play every night and not every other game."
Baldwin is scheduled to play Thursday at De Soto. Should the predicted snowstorm strike, the game would be played on Friday if possible.
Leochner said the De Soto game was meaningless for sub-state seedings, which were set after Tuesday's games. He anticipated the third-seeded Bulldogs would draw Spring Hill again the first round and if it won would play the winner of second-seeded De Soto and Louisburg game in the second round.
Baldwin 54, Spring Hill 46
Baldwin (13-6) 14 16 10 14 – 54
Spring Hill (7-12) 8 17 14 7 – 46
Baldwin: Chad Berg 12, Tim Craig 8, Luke Fursman 19, Michael Burton 6, Caleb Gaylord 3, Christian Gaylord 6
Spring Hill: Matt Smith 13, Niles Kahn 2, Ivan Hughes 5, Chris Bybee 11, Lake Johnson 2, Kainon Clark 5, Danny Hodge 5, Nick Reynolds 3