Ottawa, Ojeleye outlast Baldwin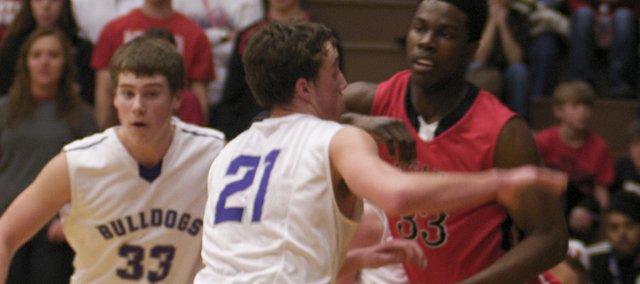 Ottawa left Baldwin undefeated Friday but not untested.

"We gave them a go," Baldwin coach Dustin Leachner said of the Bulldogs' effort in the 62-48 loss to the Cyclones.
The Bulldogs indeed did. Halfway through the third quarter, Baldwin was ahead of the state's top-rated Cyclones, 31-29, in a game played before a standing-room-only senior night crowd.
The key for Baldwin was holding Ottawa senior Semi Ojeleye to 3 points and no field goals to that point. Baldwin was able to do that by covering the 6-8 senior, who scored 37 points against Baldwin in a January match up, with two men in triangle and two defense. Drawing the defensive assignment were juniors Luke Fursman and Chad Berg, who played the entire ballgame.
Unfortunately for the Bulldogs, they couldn't keep Ojeleye or Ottawa off the line. The Cyclones made 24-of-36 free throws in the tightly called second half, including 15-of-20 by Ojeleye (the Ottawa star would finish with 20 points but only one field goal).
Unlike the January game, which Ottawa won, 71-43, Baldwin never let the Cyclone pull away. The Bulldogs closed to within two points at halftime, 24-26, by scoring the last eight points of the half.
Foul problems made a similar comeback difficult in the second half. Three Bulldogs, Caleb and Christian Gaylord and Fursman, fouled out of the contest and junior Michael Burton left the game with an ankle injury.
Leochner was nonetheless proud of his team's play, which came off a very good road performance Tuesday at Louisburg.
"We're peaking at the right time," he said.
Ottawa 62, Baldwin 48
Ottawa (18-0)18 8 15 21 – 62
Baldwin (12-6) 10 14 9 15 - 48
Ottawa: Taylor Graf 1, Dillon Boeh 4, Kaden Shaffer 13, Alex Hasty 7, Dallas Natt 12, Wyatt Peters 4, Jordan Markley 1, Semi Ojeleye 20
Technical: Ottawa coach Jon McKowan
Baldwin : Tim Craig 10, Chad Berg 13, Luke Fursman 12, Caleb Gaylord 2, Quinn Twombly 1, Chris Gaylord 10