Baldwin wrestlers finish third at regional tourney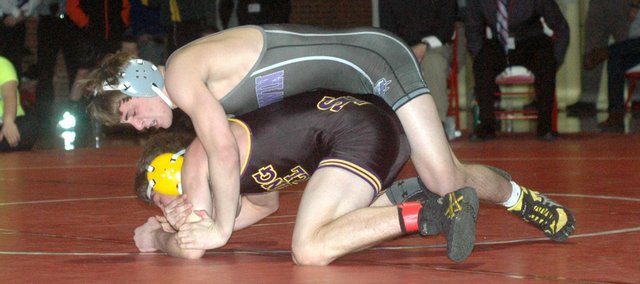 Tonganoxie — The Baldwin High wrestling team had two individual champions and racked up 151 total points — good enough for third in the team standings — Saturday at the Tonganoxie Class 4A regional tournament.
Jon Pratt (120) and Bryce Shoemaker (138) each went undefeated to win individual titles. Following the conclusion of the tournament, Shoemaker was named the regional wrestler of the year.
Tucker Clark (132) and Mark Harman (170) also reached the championship round, but had to settle for runner-up finishes after suffering their first and only losses of the tournament.
The Bulldogs' four finalists are joined by third-place finishers Mario Garcia (182) and Tiler Garcia (220), as well as fourth-place finisher Colton Horne (152) as qualifiers for next week's state tournament in Salina. The seven state qualifiers were the second-most by any school in the tournament. Tonganoxie led the way with eight.
As a team, BHS finished behind champion and host school Tonganoxie (183.5) and Bonner Springs (162.5).
Overall team scores
Tonganoxie, 183.5; 2. Bonner Springs, 162.5; 3. Baldwin, 151; 4. Spring Hill, 134.5; 5. Basehor-Linwood, 95.5; 6. Jeff West, 88.5; 7. De Soto, 85.5; 8. Atchison, 63; 9. Ottawa, 55; 10. Santa Fe Trail, 51; T11. Piper, 41; T11. Sumner, 41; 13. Eudora, 30.5; 14. Perry-Lecompton, 30; 15. Bishop Ward, 5.
BHS individual results
106 — Ben Morgenstern, 1-2 (N/A)
113 — Ben Huntington, 0-2 (N/A)
120 — Jon Pratt, 4-0 (First)
126 — Open
132 — Tucker Clark, 3-1 (Second)
138 — Bryce Shoemaker, 4-0 (First)
145 — Owen Tuckfield, 1-2 (N/A)
152 — Colton Horne, 4-2 (Fourth)
160 — Jason Von Bargen, 2-2 (N/A)
170 — Mark Harman, 2-1 (Second)
182 — Mario Garcia, 3-1 (Third)
195 — Joel Halford, 0-2 (N/A)
220 — Tiler Garcia, 4-1 (Third)
285 — Alex Cigard, 0-2 (N/A)