Baldwin girls end skid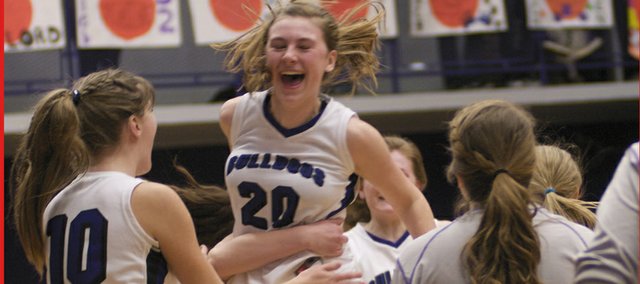 The Baldwin girls ended a three-game losing streak with a 35-33 overtime senior night victory against Ottawa.
Junior Katie Jones made two free throws with 6 seconds remaining in overtime, giving Baldwin the hard-fought victory. But it was the heroics of Kailyn Smith that got the Bulldogs to overtime.
The senior guard hit a 3-point basket with 3:22 remaining in regulation, bringing Baldwin to within two at 24-26. Smith added a second 3-pointer with 17.6 seconds remaining, cutting Ottawa's lead to one point, 28-27. After the Cyclones Alexis Roecker missed two free throws with 11.6 remaining, Smith was fouled on a driving shot to the basket with less than a second to play and was able to connect on 1-of-2 to knot the game at 28-28.
"Her first 3 was huge," Baldwin coach Bob Martin said. "They both were.
"I thought all our seniors played well. They had great focus all week in practice."
In overtime, Smith's drives into the lane ended in two assists for baskets by senior Katie Kehl and sophomore Maddie Ogle.
Smith said the team felt confident heading into overtime.
"It was really exciting," she said. "We had a lot of momentum. We wanted to get it done."
Before Smith's fourth-quarter marksmanship, Baldwin could get little going offensively. Baldwin scored only 12 points in the first half and added only six more in the third period.
"It's kind of who we are right now," coach Bob Martin said of the team's offensive woes. "We played great defense. Defense won the ballgame."
Fresh from a senior night win, the Bulldogs will now be on the road twice next week to team playing their last games at home. Baldwin travels Tuesday to Spring Hill and plays Thursday at De Soto.