Longtime Baldwin High School cheer/dance coaching partnership coming to an end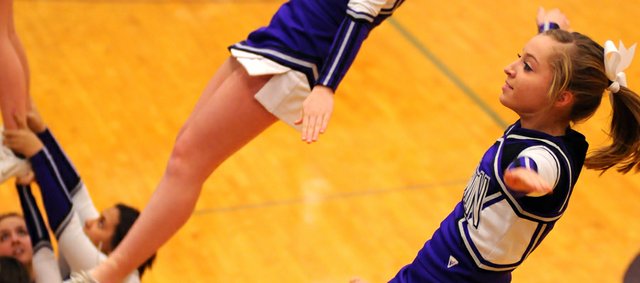 Baldwin High School business teachers Patricia Lenning and Gayle Dempsey have taught together for 25 years. And they spend a good portion of their week together coordinating the BHS cheerleading and dance teams.
This year is the last year Lenning, the cheerleading coach, and Dempsey, the dance coach, will collaborate. Dempsey will retire from teaching and coaching in May.
"It's weird when you've been in a place for 25 years and you're going to leave," Dempsey said. "When you've done something it's kind of hard to not do it anymore even though you know it's time to move on."
Dempsey was a very green dance coach when she agreed to take on that responsibility 25 years ago.
"I had no prior experience in dance," Dempsey said. "I didn't even know what an eight-count was."
Through help from Lenning, dance camps and training sessions, Dempsey learned about coaching the girls and helping them become better dancers.
The team performs at games, marches with the school band and dances at two or three high school dance festivals every year.
"It's really fun," Dempsey said. "It makes my (regular) job fun, and it's just awesome to see girls come in with little or no experience and watch them improve."
Dempsey said the year-round time commitment isn't easy — tryouts begin as soon as basketball season is over and the girls begin practicing before school is out for the summer — but the girls on the team make coaching worth it.
"You see girls not involved in anything make the squad and get three blue ribbons at camp and they're so happy," Dempsey said. "That's what makes it worthwhile."
Dempsey said Lenning, who began coaching the cheerleading team in fall 1982, was a big help to her in the classroom and with the team.
Lenning not only showed Dempsey the ropes when coaching the girls but has helped develop the school's cheerleading program into an athletic, spirited group.
"When I came to Baldwin, the program was pretty sad and I just felt like it was a place where I could help a group of kids," Lenning said. "I brought in a lot of discipline with our strength training and conditioning and making them more disciplined.
"You try to make it look easy but (people) wouldn't know the amount of strength conditioning and athleticism it takes to do what they're doing and do it well. Unless they've been through the program they don't understand how much work it is."
And Lenning's own hard work hasn't gone unnoticed. She was chosen as the National Federation Coaches Association Midwest Sectional Cheer Coach of the Year.
She said the key to a successful program was to not only concentrate on the team, but on each athlete.
"You put a lot of pressure on yourself to win or do well but if the kids know you truly care about them as athletes, students and individuals, that's all that really matters. You'll have a good program," she said.