Baldwin wrestlers win 2nd-straight Frontier League title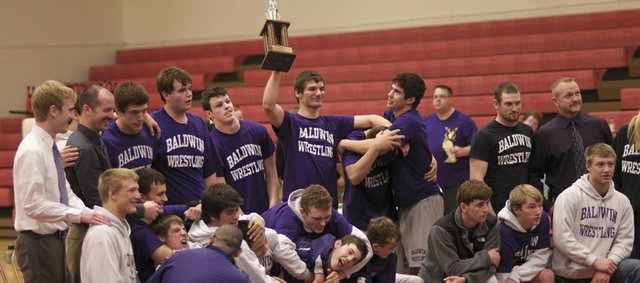 Ottawa — The Baldwin High School wrestling team defended its Frontier League title Saturday with a bonus-points dual match victory against Spring Hill.
The two teams met in the last contest of the tournament with its dual-match format.
Both teams entered the finals with 5-0 records after running the table in match ups against the league's other squads.
Before the final match, Baldwin coach Kit Harris foresaw a close, hard-fought contest, correctly predicting bonus points might decide the victor.
The teams fought to a 30-30 draw, but Baldwin won the championship on the strength the 2-1 advantage in falls it racked up in the dual.
The dual was marked by a number of tightly contested Bulldog wins. Baldwin wrestlers prevailing in hard-fought contests were Jon Pratt at 126 pounds, Tucker Clark at 132 pounds, Bryce Shoemaker at 138 pounds, Colton Horne at 152 pounds and Jason Von Bargen at 160 pounds. Shoemaker, the No. 1 ranked 4A wrestler in his weight division, scored five-straight points to comeback from a 0-2 deficit to defeat Spring Hill's former state runner up Corey Spader.
After trailing throughout the dual, Bulldogs forged ahead when Tiler Garcis earned a fall at 220 pounds.
In the final match of the meet, Baldwin freshman heavyweight Alex Cigard faced off against Spring Hill's Austin Pittman, a senior who pinned four opponents in the league meet. Pittman won, but Cigard was able to prevent the fall, which would have given Spring Hill the meet championship.
Six Bulldogs earned league championships. They were Pratt, Clark, Shoemaker, Horne, Von Bargen and Garcia.
In addition, Mark Harman placed second at 170 pounds, Joel Halford at 195 pounds and Ben Morganstern (106 pounds) and Garcia won third-place medals.
Frontier League Dual Results
Guaranteed Places
1st Place - Baldwin
2nd Place - Spring Hill
3rd Place - Paola
4th Place - Ottawa
5th Place - Louisburg
6th Place - De Soto
7th Place - Eudora
Round 1
Ottawa defeated Louisburg 43-26.
Spring Hill defeated Eudora 67-12.
Baldwin defeated De Soto 60-12.
Paola defeated null 0-0.
Round 2
Spring Hill defeated Ottawa 70-6.
De Soto defeated Eudora 61-18.
Louisburg defeated null 0-0.
Baldwin defeated Paola 49-19.
Round 3
Spring Hill defeated De Soto 52-15.
Baldwin defeated Louisburg 53-24.
Ottawa defeated null 0-0.
Paola defeated Eudora 57-16.
Round 4
Ottawa defeated De Soto 44-36.
Spring Hill defeated Paola 51-16.
Louisburg defeated Eudora 45-33.
Baldwin defeated null 0-0.
Round 5
Baldwin defeated Ottawa 46-30.
Eudora defeated null 0-0.
Paola defeated De Soto 45-29.
Spring Hill defeated Louisburg 63-9.
Round 6
Spring Hill defeated null 0-0.
Paola defeated Ottawa 47-30.
Baldwin defeated Eudora 65-18.
Louisburg defeated De Soto 37-36.
Round 7
Ottawa defeated Eudora 60-18.
Paola defeated Louisburg 63-18.
Baldwin defeated Spring Hill 30-30.
De Soto defeated null 0-0.