Baker President Pat Long announces she's leaving post next year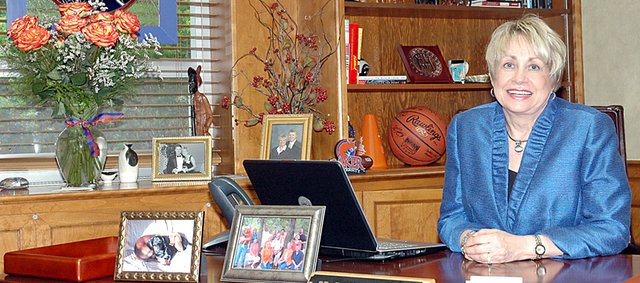 Baker University released the following statement last night:
When I came to Baker in 2006, I found a home, a fit, a place where student learning is at the center of all we do. Throughout my tenure, my priority has been to prayerfully make decisions and take actions that have moved Baker forward. With that priority in mind, I announced to the Board of Trustees today that June 30, 2014, is the appropriate time for me to retire as president of Baker University. Announcing my decision this early will give our Board of Trustees, and the University as a whole, time to do a comprehensive search and ensure a smooth transition for Baker's next leader.
Being President of Baker University during the past seven years has been my highest privilege and blessing. I have loved serving with our dedicated Board of Trustees; working with our faculty and staff; meeting alumni, donors and supporters, and of course, seeing our students grow and succeed. To that end, I am excited to finish my Presidency with the fulfillment of several lasting goals and advancing this institution forward. By June 2014, I believe Baker will be poised for an exciting future under new leadership. My priorities over the next year are to:
· Complete the first phase of the Harter Union renovation and addition
· Ensure that enrollments at the college and schools are on the upswing
· Complete our Baker 2020 Strategic Planning document and process
· Advance Baker's Leadership Distinctive, including the Institute for Leadership and Positive Change
· Continue to increase annual funds and scholarships for future students
· Expand engagement with alumni and supporters of Baker University for the future
· Thoroughly enjoy student performances, presentations and sporting competitions
For the past two months, I have been working with a Board of Trustees Transition Team chaired by Trustee and former Board Chair, Mr. Bob Honse. Upon recommendation of the Transition Team, Trustees have asked Mr. Hoot Gibson to chair the Search Committee. In accepting, Mr. Gibson will step down as Chair of the Board and, effective February 11, 2013, Senior Vice Chair Rich Howell will move into that role. A communication from Mr. Gibson will be released in the next few days to outline other details of the search process. It has been my honor and pleasure to work with Chairman Gibson for the past two years, and given his outstanding track record as a leader, I have every confidence that the search process will be inclusive in nature, executed with great care, and will attract stellar candidates to Baker.
We have much work to do in my final year, and with our committed Board of Trustees, my outstanding Executive Team, and your support, we will ensure a bright future for Baker. There will be opportunities throughout the next 16 months for me to express to each of you how much you and your work have impacted this great University and our students during my tenure. I will also have time to say thank you for your personal support for me and my leadership. While Dennis and I look forward to the next phase in our journey, we know that the eight years at Baker will be the most personally satisfying and best memories a lifetime could offer.