Baldwin wrestlers head to league with momentum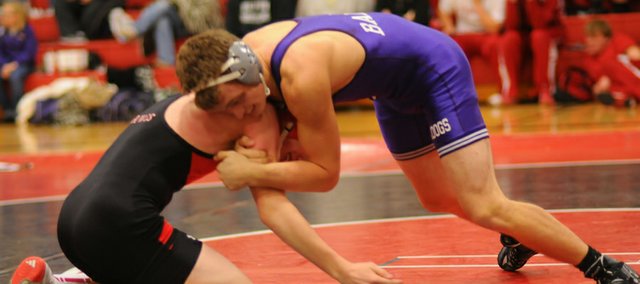 Two Baldwin High School wrestlers recorded firsts for the school Saturday when they took home titles at the Silver Lake Invitational.
Seniors Bryce Shoemaker at 138 pounds and Jason Von Bargen at 160 pounds won gold in the 18-team event. Coach Kit Harris said both won championships in exciting fashion.
"Bryce pinned and tech-falled his way to the finals before facing undefeated Greg Tooley of St. Mary's, who had a 30-0 record," he said. "It was a very hard-fought battle, and Shoemaker built a 3-0 lead entering the third period. Shoemaker locked up a spladle cradle and secured the fall for the win.
"Jason was losing 3-1 with less than 10 seconds remaining in his semi-final match against Leavenworth. Jason took a shot and in the ensuing flurry, he came out on top and scored a two takedown and also two near falls to take a 5-3 win as time expired to make the finals."
In the finals, Von Bargen faced a Rossville wrestler who had defeated him in December, Harris said. At Silver Lake, Von Bargen took an early lead and never looked back for a 3-2 win and his first-ever high school gold medal.
Harris praised the performance of 120-pound sophomore Jon Pratt, who defeated the state's No. 1 ranked 3A wrestler from Silver Lake before losing in the finals in a hard-fought match against defending 4A state champion Reese Cokeley of St. James Academy.
Junior Tucker Clark finished third place at 132 pounds, and sophomore Joel Halford added a fifth-place at 195 pounds. Halford won his final match 11-1 over a Wamego wrestler he had lost to in the opening round. Two other Bulldogs placed, seniors Colton Horne at 152 pounds and Mark Harman at 170 pounds, placed sixth.
The Bulldogs traveled to Silver Lake fresh off a dual victory against a ranked 6A Lawrence High squad.
Baldwin prevailed, 40-27, in part because Lawrence had three open weight classes, which spotted the Bulldogs 18 points.
That excuse didn't fly with LHS coach Pat Naughton, though.
"Baldwin came up here, and they came with a purpose, and they accomplished it," Naughton said. "There's no getting around that. Even if you give up three weight classes or whatever, you can't take away what those kids came out here to do."
If anything, Naughton said, the Lions weren't mentally prepared.
"Maybe some of our guys took it a little lackadaisical," the coach said, "with them having a couple different kids in the lineup."
Harris said his team, like Lawrence, has dealt with sickness and injuries lately.
"I've got seven freshmen and sophomores starting," Harris said, "but this is a good team effort. We've had a lot of good things happen for us."
The Bulldogs won five of six matches at LHS between the 126- and 160-pound weight classes. Harris said a 1-0 victory for Pratt (126) against Garrett Girard, Shoemaker's pinfall win over Lynch (138), a 7-4 decision for Owen Tuckfield (145) against Sean McCoy and Von Bargen's 18-1 technical fall at 160 versus Wescoat all made a difference in the Baldwin victory.
— Benton Smith of the Lawrence Journal-World contributed to this story. He can be reached at basmith@ljworld.com.