Chocolate auction returning for 25th year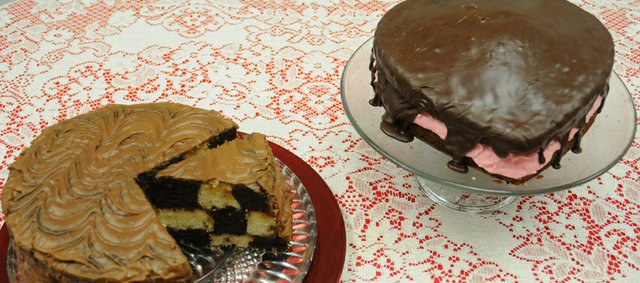 With a quarter century of success behind it, there's no reason to mess with the formula to Lumberyard Arts Center's annual chocolate auction.
The doors of the Lumberyard, 718 High St., will open at noon Sunday for the 25th annual chocolate auction with viewing of items in the silent auction to be from noon to 1:45 p.m. and the live auction starting at 2 p.m.
The event has drawn crowds and raised money for local art efforts since Tom and Alice Anne Russell brought it to the community in 1988. This year, the chocolate auction will again provide bidders the opportunity to take home delicious and artistically presented chocolate goodies and art from the Baldwin Citys area's many artists.
Sandy Cardens, Lumberyard gallery coordinator, said the auction would feature chocolate dishes from past favorites, such as Mary Jane Chubb's coveted chocolate cream pies, and artwork from generous local artists.
A lithograph that Tom Russell donated will be the centerpiece of the art auction, but Cardens said she also was excited about a gilcee print Vinland artist Steve Graber made in advance of starting a larger work.
"He works primarily in charcoal and watercolor," Cardens said "We are fortunate to have it."
Other works of note include a watercolor that Baldwin City artist Rosemary Murphy is still working on and an ink-and-watercolor piece by Carole Peters.
"We always have tremendous support from our local artists and cooks," said Cardens, noting that last year more than 100 items were made available for auction.
The winners of the Lumberyard's chair painting contest will also be announced Sunday, Cardens said. Contestants in four categories — professional, adult, junior high and high school, and elementary — were asked to repaint chairs that had their finish damaged in the May fire at the Lumberyard.
"We have about 10, which will be distributed around the seating area," she said. "We are really pleased with the ones we've had returned. The kids will really love having those in the classrooms."
The $6,000 the chocolate auction raised last year was used to help with the Lumberyard's operating costs and for scholarships for Baldwin High School seniors continuing their art studies.
For more on the chocolate auction or to view artwork to be auctioned, visit the Lumberyard Arts Center's website at lumberyardartscenter.org.