Longtime Baldwin City hair salon gets restyled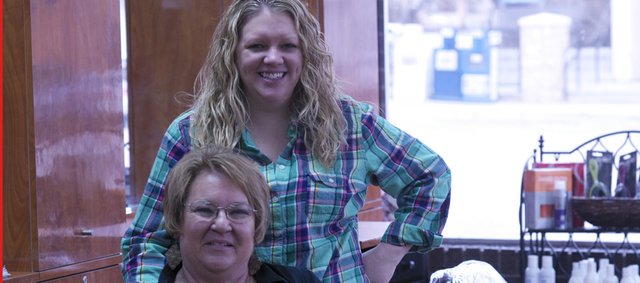 From the crew cut to the shag to the pixie cut, the Whitney family has been tending to the hair needs of Baldwin City customers for more than 60 years.
And with recent changes at Whitney Hair Salon at the 701 High Street, a new generation is ready to help customers with whatever styles the future brings.
After closing for 10 days to remodel, Whitney's Creative Hair Designs reopened last week as Whitney's Hair Salon under new, but very closely connected, ownership. Emily Wright, who now owns and manages the shop, purchased it from her mother-in-law, Martha Wright.
It is the latest change to a family business that traces back to the Eighth Street Barber Shop that Martha's father, Bill Whitney, purchased in 1952. Fourteen years later, Whitney moved the barbershop to its current location as Whitney's Barber Shop. Martha joined her father in the business in 1979 and the business began welcoming both sexes under the name Whitney's Creative Hair Designs and the daughter took over sole ownership in 1991.
Now the business has passed to her daughter-in-law, Emily Wright, who has her own background in the business.
"I've worked in Lawrence and done a lot of educational stuff there," she said. "I've always wanted to own my own place. It just felt right when we decided to do it, and the family history was cool, too."
The arrangement pleases the old owner, as well.
"I knew it needed remodeled, but that was something I didn't want to take on," Martha said. "I think it's wonderful three generations of Whitney's have owned the business. She's related by marriage, but she's still family."
The goal of the remodel was to not make the shop "too girlie," so existing and new customers of both sexes would feel welcome. She said, though, that over time Whitney's has become more of a salon than barbershop.
The shop is now offering manicures and pedicures but little else has changed, Emily said. Martha is still working at Whitney's on Wednesdays, Thursdays and Saturday, and employees Sheena Stout and Roberta Ingraham stayed on.
The shop is open Tuesday through Saturday. Saturday hours are 9 a.m. to noon, and weekday hours are 9 a.m. to "whenever we get done," Emily said.