New Year welcomed at Baldwin Athletic Club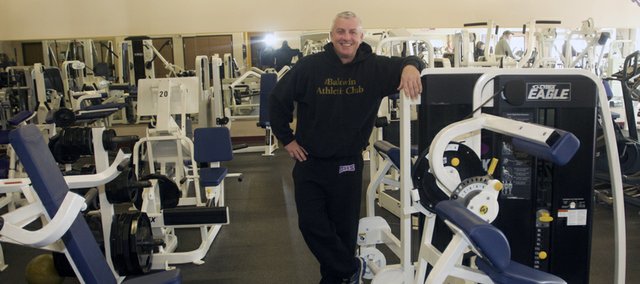 After a tough 2013 for the Baldwin Athletic Club, George McCrary is ready for the new year.
January is always good for fitness clubs as people look to shed holiday pounds, follow up on resolutions to lose weight or change lifestyles, or search for an escape from cabin fever. McCrary said all those motivations and more come together on Martin Luther King Jr. Day.
"It's traditionally the busiest day of the year in the fitness business," McCrary said. "Think about it. It's a Monday, which is a big fitness day, and a holiday many people have off. Resolutions are still in full swing.
"It won't be a holiday for me. I'll be here all day."
McCrary welcomes the traditional first-of-the year business boost to the gym he and his wife, Cheryl, own, especially after struggling for much of 2013 when the Kansas Department of Transportation improvements to U.S. Highway 56 limited access to the gym. It was the biggest challenge since the gym opened in September 2001 at 926 Ames St.
"This is a 24-hour access facility," he said. "That's a huge factor. Not having traffic going by or traffic going through Baldwin City period was an obstacle. We went from having 300 people in the door to 75."
He came to the business with a degree in exercise from Kansas University, McCrary said. Before opening his own club in Baldwin City, he sold exercise equipment and then moved on to preparing business plans and designing fitness clubs.
"This is all I have done in my adult life," he said. "I have such a passion for helping others. I feel I'm here to encourage others, and I use fitness as my avenue."
The club has all the essentials needed for an exercise regimen, with a 2,500-square-foot gym equipped with such things as weight machines, stair climbers and treadmills placed in front of large flat-screen televisions. That, clean locker rooms and a Shake This franchise juice bar are what draw perspective members, McCrary said.
Once they sign up, he introduces them to what he considers the more important goal of developing and maintaining a healthy lifestyle, McCrary said. That process starts with an assessment in which he asks people how much water they drink and how many vitamins they take, their awareness of what and how often they eat, what they do to take care of their hearts and, finally, what strength and conditioning exercises they do.
"People are coming to realize it's not about how much they weigh but wanting to be healthier," he said. "People know they are supposed to exercise. It's my job to give them a convenient, clean and welcoming place to do that."