Baldwin City food pantry feeds local need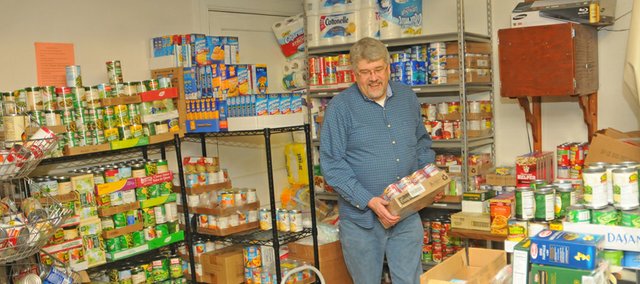 Need didn't take a holiday break Saturday at the Baldwin Community Food Pantry.
The six volunteers working the pantry in the basement of the Baldwin First United Methodist Church were greeted with a rush when the doors opened at 9 a.m., saw a lull after the first 90 minutes and then had a second wave of visitors in the hour before closing at noon.
As part of the second rush, Cindy Pappas waited patiently for her turn to fill her food bags.
"I don't know how I'd get by without it," she said. "I'm on disability. I get a check at the first of the month. I don't come early in the month, but this is a life-saver for me later in the month."
The food she picked up would help feed her grandchildren and other youngsters, Pappas said.
"I'm the grandmother of Maple Wood Apartments," she said. "I take in a lot of people."
Pappas would be one of 30 to 40 people who would visit the pantry Saturday, said volunteer Coleen Burgess. That number has been steady in recent months, although it did spike to 52 on a Saturday early in November, she said.
It is figured the food each of those individuals get from the pantry feeds three, Burgess said. The pantry feeds an estimated 100 to 200 families a month and about 5,500 people in 2013.
"People are unaware about how many people we are feeding and children we are feeding," she said. "Sometimes there are not words to express how appreciative they are."
The only thing the pantry asks of those seeking food is that they live within the Baldwin USD 348 boundaries, Burgess said. There are no income-related qualifications.
The pantry has been in the basement of the Baldwin First United Methodist Church for years. That has led to the misconception it is the church's pantry.
"It's not," Burgess' husband, Shorty, said. "It's the whole community. It's only here because we have the room for everything down here."
The Assumption Catholic Parish and Ives Chapel and Worden United Methodist churches are important supporters, he said. Helping keep the shelves filled are donations from a wide range of community groups, including the school district, Baker University, Scouts, Baldwin City Recreation Commission, Masons and numerous businesses and individuals, including those who drop items in a shopping cart at Baldwin Market.
Those visiting the pantry include single working mothers, elderly, the unemployed and underemployed, Burgess said. Recently, volunteers have noticed a considerable number of single men and grandparents like Pappas, she said,
The pantry has an overabundance of canned vegetables, which is the most donated item. On the other hand, canned fruit is always in short supply and quickly snapped up, Burgess said.
Partly because the pantry spends its cash donations only on food, there is always need for laundry soap, personal hygiene products and paper products, Burgess said.
The pantry site does have its limitations. There's limited refrigeration so milk and fresh meats can't be stockpiled, Burgess said. As alternatives, the pantry stocks powered milk and canned meats and tuna.
"In November, we were able to give out meat vouchers," Burgess said. "I had a couple gentlemen who got very emotional. I'm assuming they don't have it very much in their diet."