Christmas Eve deliveries treat those working to protect, serve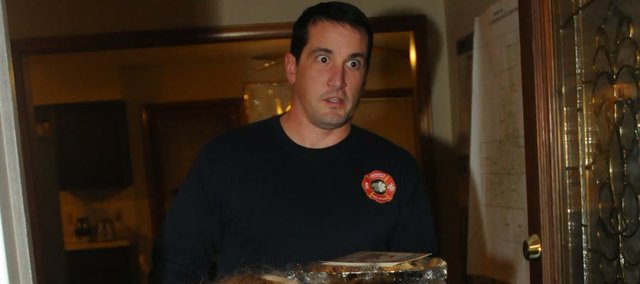 Santa Claus had competition Tuesday evening in Baldwin City when delivering packages of Christmas cheer.
Also like Santa, Susan Butell, her sister-in-law Bea Swan and granddaughters Ava and Gabi Huntoon were delivering packages to a vetted list of good and deserving people. The covered plates of food and cookies they delivered door-to-door were designated for those working Christmas Eve to care or protect others. The stops included the Baldwin City Police Station, the Douglas County EMS Station and Baldwin Healthcare and Rehabilitation Center.
The Baldwin First United Methodist Church Mission Committee started the Christmas Eve deliveries three years ago at the suggestion of Rev. Paul Babcock.
"They did it at Fort Scott when he was there," Butell said.
Fellow members of the mission committee made the cookies and sweets delivered and the local Mr. Goodcents Restaurant give the committee a "great deal" on the sandwiches, Butell said.
Tuesday was the second-straight year Butell and her granddaughters made the deliveries. Last year was an eye-opener for the children.
"They couldn't believe last year that people had to work on Christmas Eve," Butell said.
The police delivery was arranged beforehand to ensure officers would be at the station and not on patrol, but the others stops were surprises.
"This is great," said EMS Brian Patterson, who had Christmas Eve duty at the EMS station with Eric Lessig. "I didn't know this was coming. It's nice to know we're appreciated."