Vendors make Antiques on the Prairie an eclectic shopping experience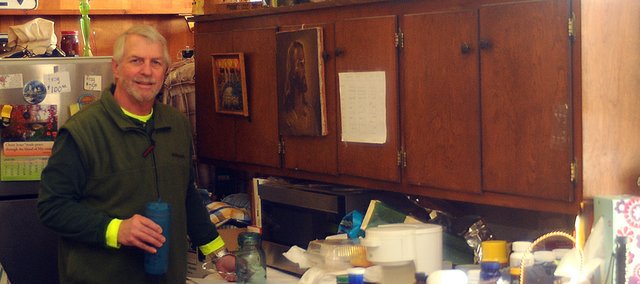 His Antiques on the Prairie is coming to the end of a season important to the business, owner Stan Vickers said
"Maple Leaf is No. 1," he said. "The festival makes up for a lot of slow days for businesses in Baldwin City. But Christmas is a good time for us."
Vickers isn't one to wait for a special event or holiday to bring shoppers to the doors of the antique mall at Sixth and High streets. During the 10 years that he's owned the shop, he's organized events that take advantage of the spacious parking lot in front of the former grocery store.
Those have included such things as bicycle swap meets, garage sales, one-on-one barbecue cook offs, Pioneer Day living history demonstrations, fish fries and car and motorcycle shows. The past few weeks, Dee Hay has offered horse-drawn buggy rides around Baldwin City from the lot.
"She will be back when the weather improves," Vickers said.
The idea is not only to get more business through his doors but also give city residents shopping and entertainment options, Vickers said.
"I believe in Baldwin City," he said. "I've got a parking lot that allows me to do some things."
The business is very dependent on out-of-town customers, who travel from Lawrence, Topeka, Kansas City and as far away as both coasts knowing they'll find unusual items, Vickers said.
Helping point many of those customers in his direction are Baker University, Three Sisters Inn and Days of Old Antiques, Vickers said.
The word antiques in the store's name doesn't accurately describe what is available inside the store.
"We have everything from the old, old to the new, new," he said. "I'm really blessed by the treasures people bring in here to sell."
The business has space for 42 vendor booths. They are full but because many vendors have multiple booths, Vickers said he didn't know off the top of his head how many vendors he had. He is happy with the eclectic merchandise the vendors bring to the store and their marketing schemes.
"There's not much overlap in what the vendors offer," he said. "Most vendors price things reasonably for resale."
The vendors' offerings include everything from antique furniture, toys, old tools, coins, glassware and military memorabilia.
TV shows like "American Pickers" have helped create a buzz for stores like Antiques on the Prairie, Vickers said. There is a downside in that people don't realize the prices they see for items on the shows or eBay are not what they will fetch in Baldwin City, he said. The positive side is people are saving collectibles from the junk pile.
"I'm so glad they have made people aware there are things in their garage, shop, attic or cellar that have value, instead of throwing them away like they did in the 1950s and 60s," Vickers said.