Disc golf course installed at Baldwin City Lake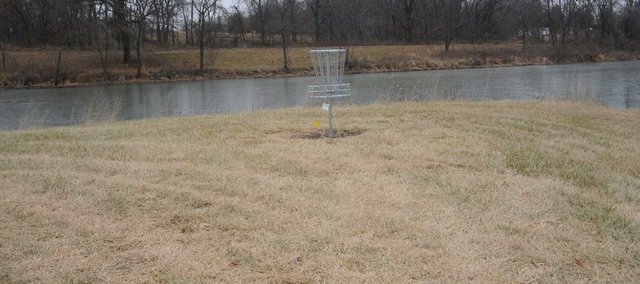 With snow on the ground and ice on the water, the new disc golf course at the Baldwin City Lake probably won't see many players soon.
But those behind the latest amenity at the lake south of the city expect that to change. The Baldwin City Council's Community Development Committee came up with the idea to install an 18-hole disc golf course about a year ago when Councilman Shane Starkey and former councilwoman Bonnie Plumberg were on the committee.
Once word gets out, the course should attract disc golf enthusiasts from Lawrence, Ottawa and Johnson County, Plumberg and Starkey said. They also expect tournaments would be held on the course, which could mean added dollars spent in the community.
City Administrator Chris Lowe said the city spent $8,600 on the course's 18 "holes," which are metal poles with baskets below disc-trapping chains. There are as yet no designated tees or fairways because the city decided to let enthusiasts establish those through play, he said. Once they do, the city would make improvement at the tees.
The city plans to get the word about the course out to Baker University students this spring and request that the county put additional signs up pointing the way to the lake, Lowe said.
"It's really a nice piece of property" he said. "This is an amenity that will get more people out there to enjoy it."