Baldwin City United Way campaign well short of goal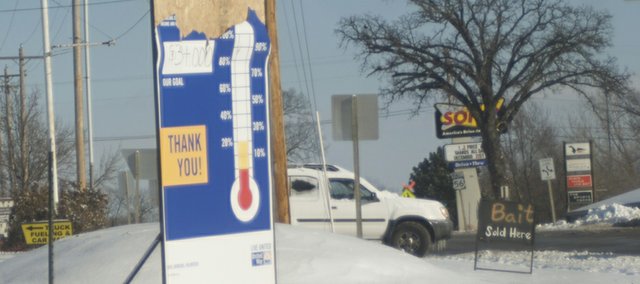 This year's Baldwin City United Way campaign is running well behind its goal.
Colleen Gregoire, United Way of Douglas County campaign director, said the local 2013 campaign has collected about $18,000 to date. That is just a little more than half the Baldwin City goal of $34,000. The countywide campaign is getting close to its goal of $1.75 million, she said.
Baldwin City contributions have been down across the board, with a trend of individuals, businesses and organizations all donating less than last year, Gregoire said.
Nonetheless, Gregoire is confident the Baldwin City campaign will come close to or reach its goal before the final accounting in February. There is one business and several traditionally generous donors who haven't made contributions, she said.
Another factor was the late cancellation of a wine-tasting fundraiser in early December. Gregoire said it was decided the fundraiser was competing with too many other holiday events.
The Baldwin City campaign now plans a Valentine's Day champagne tasting event, Gregoire said. The fundraiser is tentatively scheduled for Feb. 13 at The Lodge, she said.
Though the county campaign officially ended on Dec. 6, pledges for this year's campaign will be accepted into the new year, Gregoire said. She reminded potential donors, however, that those wanting to write donations off this year's tax bill must give before Jan. 1. To help with that, the United Way office will be open until 5 p.m. Dec. 31, she said.
To donate, contact the United Way of Douglas County at 785-843-6626 or uwcamp@unitedwaydgco.org. To donate online, go to unitedwaydgco.org.