Baldwin City to do long-planned sidewalk project next year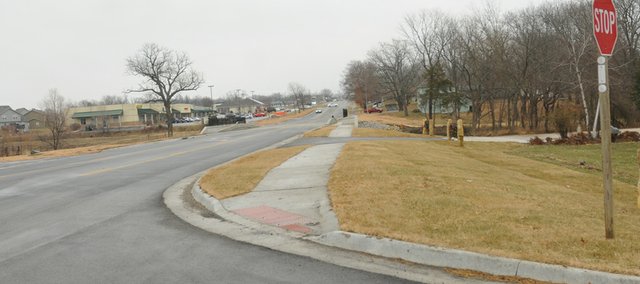 This year's Kansas Department of Transportation U.S. Highway 56 improvements in Baldwin City have prompted the city to move ahead with a long-planned sidewalk project.
The U.S. 56 KDOT project, which built a replacement bridge with walkways over the stream just west of 10th Street, also added a five-foot sidewalk on the south side of the highway from 10th to 11th streets. However, the new sidewalk ends at 11th Street, with no walkway along the highway to the Baldwin Elementary School Primary Center about four blocks to the west.
That gap will soon be addressed. The city council has earmarked $125,000 in next year's capital improvement budget to construct a sidewalk from 11th Street to the school district's boundary, Baldwin City Administrator Chris Lowe said. It would be left to the school district to connect existing sidewalk on the schoolyard to the new walkway.
Although formal plans are yet to be developed, it is hoped the new sidewalk can be built on KDOT's south U.S. 56 easement.
"We haven't had engineers look at it or discussed it with KDOT," Lowe said.
Lowe said he would also have to talk about the sidewalk extension with Baldwin USD 348 Superintendent Paul Dorathy.
A sidewalk along the highway connecting the Intermediate Center to existing sidewalks to the east has been planned since the school opened, Dorathy said. That wasn't possible with the old highway bridge, which was too narrow for a sidewalk.
"It's just been a matter of dollars and cents," he said. "With the bridge constructed and the sidewalk across there, I think it would be a logical time to do that."
It would be the school board's decision if it was a project the district would pursue next year, but it would be cheaper to do the district's section in concert with the city's planned extension, Dorathy said.
"It would be advantageous for both groups to do that at one time, so you have one engineering fee and one construction crew could do all the work at the same time," he said.
The council also directed city staff to develop a comprehensive plan for new sidewalks and trails, Lowe said. The goal is to develop a priority list the council can use during budget considerations and aid in acquiring grants, he said.