BHS

football players collect more post-season honors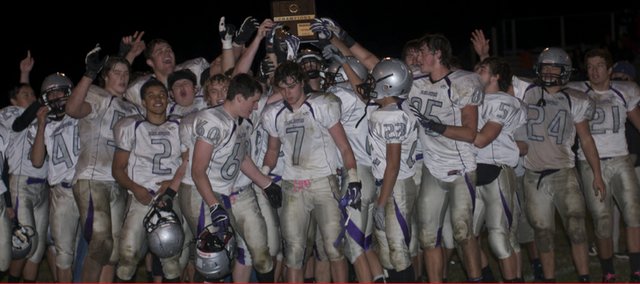 Players on the Baldwin High School football team keeps adding to their post-season awards.
Among the awards were those Kansas City metropolitan honors selected by coaches and media members.
The Bulldogs had two top-10 finalists for the Bobby Bell Award, which is given to the best small-class linebacker or lineman in junior Christian Gaylord and senior Colton Start. Senior quarterback Chad Berg was one of four finalists for the Frank Fontana Award to the best small-class player. Berg and Gaylord were among the top-30 All-Class KC metro team, the first time BHS players have been so honored.
Players named to the 810Varsity.com awards were Gaylord, Berg and senior running back Cornell Brown. Berg was chosen for the Lynn Dickey Award as the best metro small-class quarterback and Gaylord the best small-call lineman.
Baldwin players named to the AP 4A All-State Team were Berg, first-team quarterback; Gaylord, first-team lineman; Quinn Twombly, honorable mention lineman; Stark, honorable mention linebacker; Brown, honorable mention back; Tim Craig, honorable mention defensive back and wide receiver; Berg, honorable mention defensive back; and Luke Fursman, honorable mention tight end.
Coaches 4A first-team members were Berg, Twombly and Stark.