Governor proposes state fully fund all-day kindergarten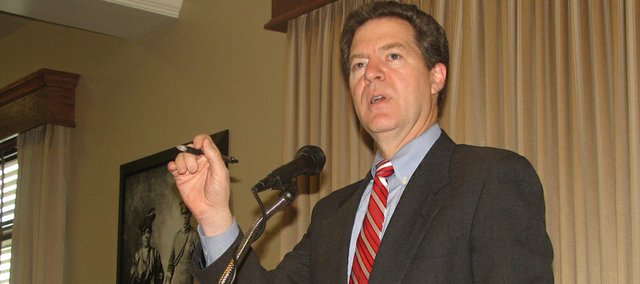 Topeka — Gov. Sam Brownback on Monday proposed that the state provide $80 million over five years to fully fund all-day kindergarten.
Currently the state provides funding for half-day kindergarten, with the remaining portion funded through local dollars. The increased funding, Brownback said, would come out of financial balances that have been built up over the past couple of years.
"Numerous studies show that all-day kindergarten results in students who are more involved, productive and ready to read at appropriate grade levels," Brownback said.
Brownback's plan would provide an additional $16 million in state funds for each of the next 5 years, or $80 million in total.
He announced the proposal as he held a series of interviews with reporters in preparation for the 2014 legislative session that starts Jan. 13.
In the absence of full state funding, school districts have different fee policies for all-day kindergarten. The Lawrence district doesn't charge for the daily time beyond that compensated by state per-pupil aid. The Eudora school district charges a fee of $250 per semester to cover the add class time, while the Baldwin school district charges $240 a month.
Baldwin Superintendent Paul Dorathy said the all-day option is becoming increasingly popular with parents. When it was introduced six years ago, the district offered only one all-day section. It then added a second about two years into the program. This year, the district has four all-day kindergarten sections and two half-day sections for its kindergartners, he said.
Dorathy said the growth could be a sign of an improved economy, but it also reflected parents recognizing the educational value of the all-day program.
The district doesn't have data comparing state assessment test results of those children in the all-day program compared to those students whose parents opted for the half-day options, Dorathy said. But he said it was extremely challenging for teachers to squeeze the complete kindergarten curriculum into the half-day program.
If the state funds all-day kindergarten, the district would probably end its half-day sections, Dorathy said.
The superintendent said Brownback's support for all-day kindergarten wasn't new. He floated such a proposal in the first year of his term before the subject was dropped in the face of fiscal shortfalls. The program aligns with the governor's stated goal of improving fourth-grade reading skills, he said.