Baldwin City Council seeks 4-year exemption to conceal-carry law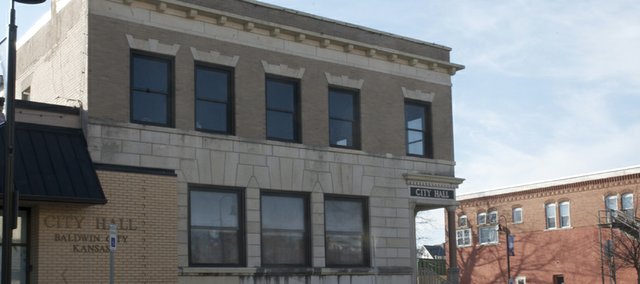 The Baldwin City Council agrees with the Douglas County Commission: Guns in public buildings are a bad idea.
The city's preference is for the Kansas Legislature to change the law it passed earlier this year allowing those with concealed-carry permits to bring firearms into public buildings, unless the buildings have security measures such as armed guards or metal detectors.
For now, the city is seeking a four-year exemption, which is allowed under the law to give local governments time to make security upgrades.
The Douglas County Commission was set to vote on a similar exemption for all county buildings at its Wednesday meeting.
Baldwin City Administrator Chris Lowe said the city's hope was that the Legislature would amend the law, which puts a "huge burden" on local jurisdictions to make security modifications or hire armed guards if they want to keep firearms out of their buildings.
Baldwin City Mayor Marilyn Pearse also would like to see the law changed, saying local governing bodies should make the decision.
The city could not afford to secure its 10 buildings with metal detectors or post security guards in them, Lowe said. If the law is not amended, the city's response could be to put the employees who are most exposed when meeting the public behind bullet-proof protection.
"If the Legislature continues to believe the public safety is best enhanced with everybody allowed to carry weapons everywhere, we have to take steps to protect our staff," Lowe said. "Our staff does a good job of interacting with the public. We don't want to project an image of impersonal service of people behind bullet-proof glass talking to residents through speakers."
In other business, the council:
• Received a workbook of the city's 2014 budget. It is the first time such a document has been prepared.
• Gave Police Chief Greg Neis the nod to post no-parking signs on both sides of the two-block Orchard Lane. Vehicles parked on both sides of the street have prevented ambulances and delivery trucks from accessing Hancuff Place at the dead-end street's south end. Neis said he and Public Works Director Bill Winegar recommended parking be restricted on both sides of the narrow street.
Peter Hancock of the Lawrence Journal-World contributed to this story.