Fall graduate credits Baker experiences with bringing her out of shell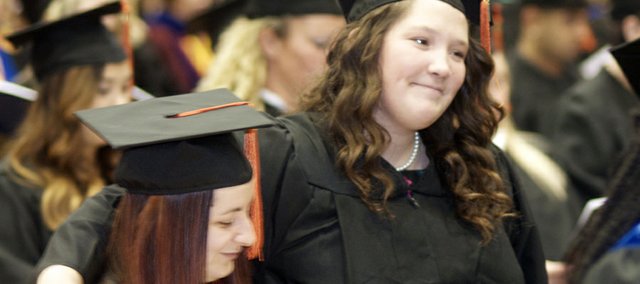 In her address to Baker University's 2013 fall semester undergraduate commencement, Baker President Pat Long urged the class to embrace the moment.
For one of the 93 students receiving their Baker undergraduate degrees Sunday, it was a life lesson she learned battling cancer as a teenager. Nonetheless, Hannah Miller, who received her degree in business, said Long's message was a welcome one.
"It was nice to be reminded with all the hustle and bustle of graduation," Miller said.
She was diagnosed with non-Hodgkin's lymphoma when she was 13 years old. It returned after her first round of chemotherapy treatment, requiring her to undergo a skin transplant.
"It's been in remission since," she said. "I considered myself a normal college student."
She did acknowledge, however, a possible residual effect of her childhood cancer: an introverted personality.
"That is a time a lot of teenagers start finding out who they are," she said. "I had my mind on other things."
Miller credits friend Sydney Doster, a fellow Gardner High School class of 2009 graduate who came with her to Baker, with helping get her out of her shell.
"She convinced me to join Alpha Chi Omega with her," Miller said. "I didn't want to join. I didn't think I'd like sororities. But being in Alpha Chi Omega introduced me to a wider circle of friends and group activities. It got me out of my comfort zone."
With that new confidence, Miller worked as an assistant to the athletic trainer, going to the school's games and events, and became a member of the Student Activities Council, which schedules entertainers for the university.
Through that work, Miller became acquainted with the group's advisor and university minister, The Rev. Ira DeSpain.
He knew of Miller on her arrival at Baker, having baptized her as the minister at Aldersgate United Methodist Church in Olathe, DeSpain said.
"That was 22 years ago today," DeSpain said. "That's a cool connection. It's been rewarding watching her mature and grow during her time at Baker. She got involved in so many activities."
Because of her childhood-cancer experience, Miller entered Baker intending to study nursing so she could work with cancer patients.
"I found out I wasn't good at science, so I switched to business," she said. "I would still like to work at a nonprofit like the American Cancer Society.
"My business professors were absolutely amazing. They had a way of relating real-life stories that go beyond the textbooks. They gave you a chance to see how what you were learning would help you later on."
Although she does not yet have a job, Miller is looking to the future with confidence.
"I'm still searching," she said. "I'm sure I'll find something I can grow into. I'm excited to be going on to the next step in life and be successful."