Baldwin girls hold off Louisburg to claim tourney championship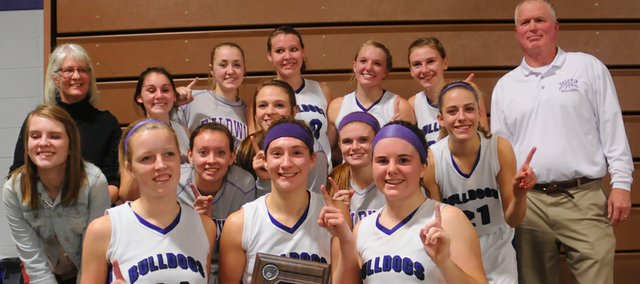 After giving nearly all of a 14-point third-quarter lead, the Baldwin High School girls basketball team made critical plays in the crunch Friday to claim a 37-35 victory against Louisburg and the Bulldog/Wildcat Classic title.
The Bulldogs played very well early, taking care of the basketball and cleaning the boards as they built a 17-11 halftime lead. But even while building that lead, Baldwin found baskets harder to come by than in its three early games, missing many baskets from inside the paint. Louisburg found points even harder to come by, settling often for three-point shots early in the possession despite the inside presence of 6-4 senior Maddie Deshzer and 5-10 junior Bailey Dvorak.
Baldwin returned from the locker focused, claiming the first eight points of the third quarter to build a 25-11 advantage. The Bulldogs were slowed when all three starting inside players, juniors Maddie Ogle, Alexia Stein and Corey Valentine, picked up their third fouls in the quarter.
As they took turn sitting on the Bulldog bench, Louisburg went on a 13-point run, aided by junior Kirsitn Lowry's two-straight three-pointers.
Although Baldwin never gave up the lead, the game was tightly contested throughout the fourth quarter. Senior guard Katie Jones helped keep the Wildcats at bay with five fourth-quarter points, three times drawing fouls on Louisburg defenders on drives into the lane.
Louisburg had the ball with a chance to tie with less than 20 seconds to play before committing a turnover. Baldwin senior guard Hailey Cope then broke open for a layup, which gave the Bulldogs a 37-33 lead and ice the game.
Bulldog coach Bob Martin was pleased with how his team responded to the Louisburg challenge in winning a meaningful game one week into the season.
"We faced adversity, but were able to overcome it," he said. "It's really good to play a game like that early in the season.
"We played a good team tonight. We played a good team last week (Jefferson County North). I think its good to play teams in December that can test you."
The early test will continue Tuesday when the Bulldogs travel to Paola to start regular season league play. Paola went to the 4A state tournament last year after defeating Baldwin in the finals of sub-state."
Baldwin 37, Louisburg 35
Baldwin (3-1) 9 8 11 9 -37
Louisburg (3-1) 5 4 13 13 – 35
Baldwin scoring: S. Hall 2, K. Steinke 2, M. Ogle 5, K. Jones 10, A. Stein 6, H. Cope 9, Valentine 3
Louisburg scoring: N. Moore 10, L. Dunn 7, K. Lowry 6, K. Geiman 3, N.Hopkins 4, K. O'Keefe 3, M. Deshazer 2