Baldwin boys in 'zone' in 61-40 tile game win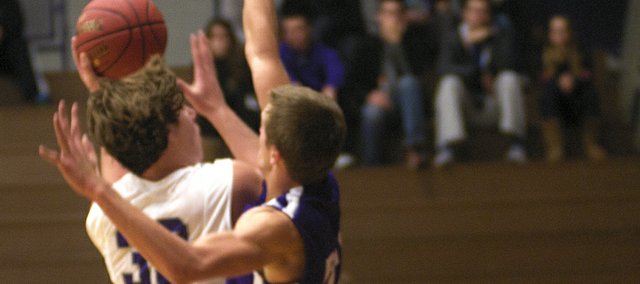 Baldwin High School boys basketball coach Dustin Leochner said Quinn Twombly took to heart a challenge delivered before Friday's Bulldog/Wildcat Classic championship game.
Leochner said assistant coach Paul Musselman told the senior center he would be facing perhaps the best big man in the Frontier League in Louisburg's Mesa Ribordy.
"I think maybe Quinn Twombly took exception to that, and I think he made a pretty good statement tonight," the coach said. "Quinn had a heck of a night. He didn't miss anything."
Twombly responded with 25 points, 18 in the first half, as Baldwin cruised to an easy 61-40 victory to claim its second Bulldog-Wildcat Classic championship in Louchner's three years as Bulldog coach.
To the delight of a raucous BHS student section, the contest was lopsided from the opening tip. Baldwin outscored the Wildcats16-4 in the first quarter and ended whatever doubt was left by scoring the first 12 points of the second period.
"Athletes talk a lot about being in the zone, and we were in it tonight — more than once," Leochner said. "We were feeding off it. There wasn't a shot Quinn didn't think wasn't going in and it just starts to snowball."
The Bulldogs early dominance was both a reflection of the ease with which they handled Louisburg's man-to-man defense and the transition baskets created off full-court pressure, tight half-court defense and ownership of the defensive boards.
"The first half we put on a clinic in transition basketball," Leochner said. "We did a great job of feeding the post. Even in the two-man game when we isolated on one side, we did a great job of getting it inside and finishing."
Senior point guard Cornell Brown drove the ball to the basket repeatedly in the first half off the break and in the half-court set to feed the ball to Twombly and Baldwin forwards Michael Burton and Luke Fursman, who also finished in double figures with 11 and 10 points, respectively.
Leochner said was pleased with how his team was devoted to teamwork so early in the season.
"Cornell was being rewarded for being unselfish by Quinn finishing and Quinn was being rewarded with great passes," he said. "All of our guys to a great job of finding the hot hand. Even with a sophomore (Jackson Barth), those seniors will feed him. They just want to win."
The Bulldogs next play Tuesday at Paola to open Frontier League regular season play.
"They're are big and strong," Leochner said."I know I said this tonight, but that's going to be a challenge."
Baldwin 61, Louisbourg 40
Baldwin (4-0) 16 18 15 12 – 61
Louisburg (3-1) 4 10 11 15 – 40
Baldwin scoring: C. Brown 7, T. Craig 6, M. Burton 11, L. Fursman 10, Q. Twombly 25, G. Burkhart 2
Louisburg scoring: N. Moore 2, M. McLellan 4, W. Garza 3, C. Wertz 18, A. Dunn 3, W. Sander 8, M. Ribordy 2