BHS

coach, 2 players named to Lawrence Journal World's All-Area Team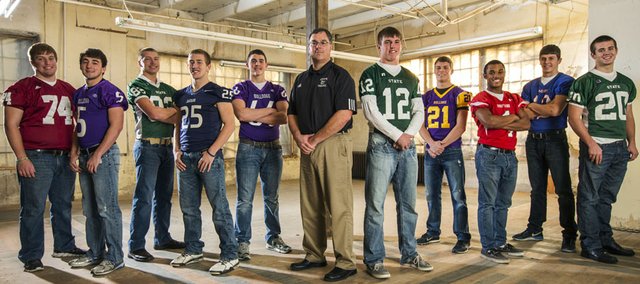 Player of the year
Joe Dineen, Free State
Quarterbacking the Firebirds' offense, and essentially doing the same on defense, where the senior free safety made reads to get everybody in place, Dineen rarely left the field and helped the multi-talented Firebirds finish 9-2 and reach the Class 6A state quarterfinals.
Coach of the year
Michael Berg, Baldwin
The Bulldogs won their first 11 games, and outscored their opponents, 501-135, in a one-loss season under Berg. Baldwin followed its undefeated regular season with two more victories in the 4A playoffs before losing a heartbreaker, 35-27, at Coffeyville in the quarterfinals.
First team
Chad Berg, Baldwin — A senior quarterback and cornerback, Chad usually had the Bulldogs up by so many points that he went to the bench early in the second half. Still, he rushed for 1,415 yards, passed for 772 more and racked up 24 total touchdowns.
Zach Bickling, Free State — Too strong and fast for most opposing offensive linemen to block, the senior defensive end played a part in 64 total tackles and recovered two fumbles for FSHS. As a tight end, three of Bickling's eight catches went for touchdowns.
Drew Cerny, McLouth — With the help of the senior running back and safety, McLouth (7-3) went 5-0 in the Northeast Kansas League. Cerny rushed for 1,303 yards and 18 touchdowns, picked up 207 receiving yards and accounted for 638 return yards on the MHS punt- and kick-return teams.
Micah Clarke, Mill Valley — The Jaguars held their foes to 10 points a game, and the senior linebacker had a lot to do with that. Clarke got in on 87 total tackles, picked off four passes, had nine tackles for loss and scored two touchdowns for MVHS (10-1).
Joe Dineen, Free State — The Gatorade Kansas Football Player of the Year and Andre Maloney Award winner amassed 1,702 passing yards and 798 rushing yards as the Firebirds' quarterback, scoring 32 total touchdowns in the process. At free safety, Dineen broke up five passes, picked off another and had 49 solo tackles.
Cole Holloway, Tonganoxie — At 5-foot-7, the senior running back proved hard to catch. Holloway rushed for 1,353 yards while carrying the ball 19.4 times a game for the Chieftains (9-2). By the time their season ended in the second round, Holloway finished with 13 rushing touchdowns.
Keith Loneker, Free State — One of the Sunflower League's premier linebackers, he finished his senior season with 47 solo tackles, 42 assists, 10 tackles for loss, four fumble recoveries and two touchdowns. Loneker even chipped in on offense, with 445 receiving yards and six scores.
Luke Meyer, Wellsville — A three-year starter at linebacker, the senior led WHS (8-3) with 96 total tackles, forced three fumbles and had 7.5 tackles for loss. Meyer delivered plenty of hits on offense, too, as a fullback, blocking for 1,246-yard rusher Brett Osbern.
Colton Stark, Baldwin — The senior middle linebacker blew past blockers all season, hitting ball-carriers for losses 15 times and sacking opposing quarterbacks four times. Stark, who finished with four pass break-ups and two fumble recoveries, made the BHS defense dominant.
Kyle Wittman, Lawrence — When the young Lions needed leadership, the senior lineman provided it. And when LHS skill players needed the center to protect them, he happily obliged on that front, as well. Wittman started on both sides of the ball and earned first-team All-Sunflower League on offense.
Honorable mention
Marcus Allen, Bishop Seabury Academy; Andrew Ballock, Eudora; Michael Buffkin, De Soto; Brandon Eddy, Perry-Lecompton; Kord Ferguson, Ottawa; Coltyn Gatton, Mill Valley; Drew Green, Lawrence; Patrick Gutierrez, Bishop Seabury Academy; James Grizzle, Tonganoxie; J.T. Howell, Eudora; Andre Lewis, Ottawa; Nick McAferty, McLouth; Tyler Mundy, Santa Fe Trail; Brendon Neal, Perry-Lecompton; Brett Osbern, Wellsville; TJ Phillips, Mill Valley; Eric Rogers, Eudora; Kieran Severa, Lawrence; Joe Simpson, Bishop Seabury Academy; Jeremy Slitor, De Soto; Cody Snyder, Tonganoxie; Brady Sullivan, McLouth; Quinn Twombly, Baldwin; and RJ Whitaker, Perry-Lecompton.