Bulldog girls bury Iola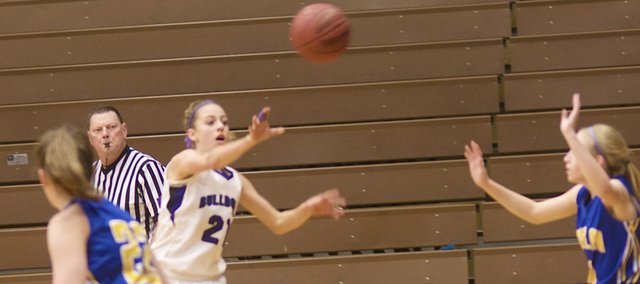 The Baldwin High School girls earned a trip to the finals of the Bulldog/Wildcat Classic with a 57-22 victory Wednesday against Iola.
The Bulldogs got solid inside play from junior forwards Maddie Ogle and Corey Valentine, who finished with 10 and 11 points, respectively. The Bulldogs broke out to a 18-6 lead at the end of the first quarter and 32-9 halftime advantage. With the large lead, Baldwin coach Bob Martin was able to play his entire bench extensively in the second half.
Baldwin also had little difficulty with Iola's full-court pressure, one source of concern after an 11-turnover fourth-quarter in Monday's victory against Chanute.
Baldwin won its pool and will play Friday against Louisburg, which won Wednesday against Anderson County, 63-36,
Baldwin 57, Iola 22
Baldwin (2-1) 18 14 11 14 – 57
Iola (1-2) 6 3 5 8 – 22
Baldwin scoring: Sierra Hall 6, Karina Steinke 3, Maddie Ogle10, Madeline Neufeld, 9, Katie Jones8, CoreyValentine 11, Alexia Stein 7, Hailey Cope 3
Iola scoring: Sydney Wade 1, Emma Piazza 4, Hannah Endicott 5, Addie Haar 2, Mikaela Platt 2, Emery Driskel 6, Toni Macha 2