BHS

cross country team highlights

LJW

All-Area Boys Cross Country Team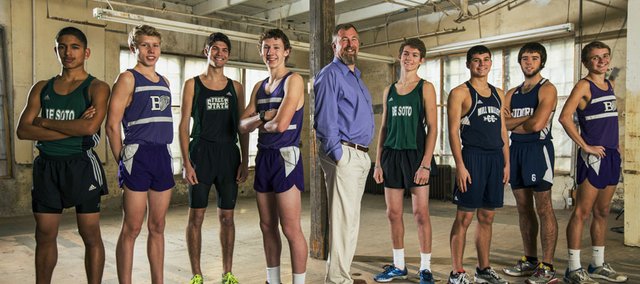 Runner of the year:
Dakota Helm, Baldwin
The top finisher on Baldwin's Class 4A state championship team, the Bulldogs sophomore completed the rigorous Wamego Country Club 5K in 17:07.04, good for a fourth-place state medal.
Coach of the year:
Mike Spielman, Baldwin
With runners Helm, Joe Pierce, George Letner, Ethan Hartzell, Zach Smith, Nevin Dunn and Jackson Barth leading the way, the Baldwin coach picked up his 11th 4A boys state championship, to go with his eight girls state titles.
First Team
Dakota Helm, Baldwin — At five of the meets in which Baldwin competed, Helm raced to an individual championship. The sophomore took home first-place medals from Anderson County, Wamego, Sabetha, the Frontier League and a 4A regional.
George Letner, Baldwin — Letner gave BHS consistent top-10 performances, too. The sophomore finished one spot behind Helm at Anderson County, took fifth at Sabetha, earned seventh at the Frontier League meet and placed fourth at a regional.
Ryan Liston, Free State — The Firebirds' top runner throughout the fall, Liston (fifth in the Sunflower League) ran his best race of the season at the 6A state championship, finishing the Rim Rock Farm 5K with a 13th-place run of 16:31.96.
Derek Meeks, Mill Valley — The Kaw Valley League champion as a sophomore, he led the Jagaurs to an undefeated regular season. At the 5A state meet, Mill Valley finished third (a program record), with Meeks placing eighth.
Jon Miller, Eudora — Not once this season did the Cardinals junior leave a meet without a medal. Miller placed fourth at the Frontier League and a 4A regional before taking 14th at the state meet in Wamego.
Luis Murillo, De Soto — Behind his stellar sophomore season, the Wildcats finished fourth at the 4A state meet. Murillo raced to second at the Frontier League before earning a regional championship and a seventh-place state medal.
Joe Pierce, Baldwin — Another key component of the Bulldogs' state championship season, the junior gave BHS a nearly unbeatable pack, received fifth-place medals at both the Frontier League and a 4A regional and ran to eighth at state.
Max Taulbee, De Soto — In his senior season with the Wildcats, he never finished far behind his running mate, Murillo. Taulbee, 10th place at state, also nabbed third place at the Frontier League and a 4A regional.
Honorable mention
Thomas Becker, Free State; Chase Bouse, Wellsville; Brandyn Brewster, Wellsville; Jordan Butler, Oskaloosa; Ryan Bristol, McLouth; Drew Cook, Tonganoxie; Ethan Donley, Free State; Alex Goertz, Christ Preparatory Academy; Keegan Matheis, Lawrence; Gunnar Norris, Eudora; Nathan Pederson, Lawrence; Kit Rice, Bishop Seabury Academy; Sam Stephens, Lawrence; Sam White, Ottawa; and Nathan Zwahlen, De Soto.