Baldwin boys cruise to tournament finals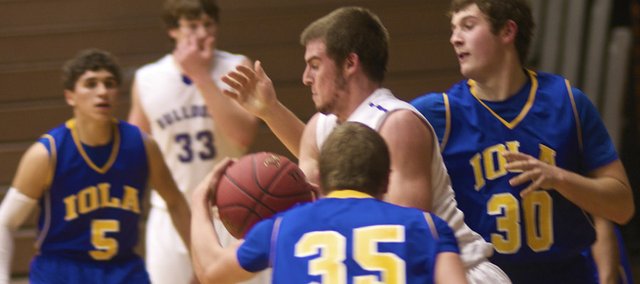 The Baldwin High School boys raced Wednesday to a 11-2 first-quarter lead against Iola and coasted to a 58-33 victory in the Bulldog/Wildcat Classic.
With the win, Baldwin finished 2-0 in pool play and will play Friday against Louisburg, which emerged with the same record from its pool with a 56-37 victory against Anderson County.
Behind eight first-half points from senior forward Michael Burton, the Bulldogs built 26-8 second-quarter lead before Iola scored the last eight points of the half to cut into Baldwin's halftime lead.
Iola senior guard Trenton Latta scored five-straight points in a Mustang run early in the third quarter to reduce Baldwin's lead to nine midway through the third quarter before Bulldog sophomore Jackson Barth buried two-straight three-pointers to increase the lead back to 15 points.
Baldwin 58, Iola 33
Baldwin (3-0) 11 15 16 16 – 58
Iola (1-3) 4 8 8 11 – 33
Baldwin scoring: Cornell Brown 13, Tim Craig 2, Austin Ward 6, Luke Fursman 9, Jackson Barth 6, Michael Burton 17, Quinn Twombly 3, Eric Peterson 2
Iola scoring: Tenton Latta 9, Endicott Kohl 2, Jesse Zimmerman 2,Kaden Macha 8, Adam Kauth, 8, Tyler Powelson 4