Baldwin wrestlers tested early at Gardner tourament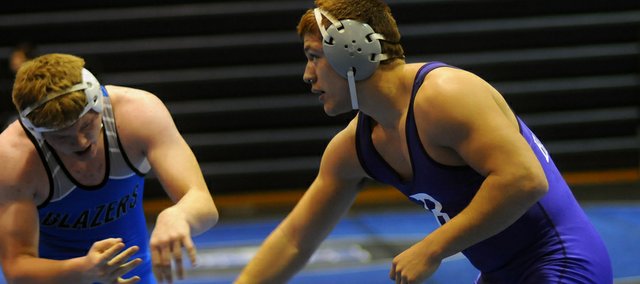 Baldwin High School wrestlers opened the season with an eighth-place finish at Saturday's Gardner tournament.
It may have been a middle-of-the pack finish in the 15-team tournament, but it was impressive because the Bulldogs were the only 4A school in the pack. Making it more noteworthy was the field included 5A and 6A Kansas powers and national powerhouses, including defending Iowa champion Southeast Polk, Nebraska state champion Omaha Skutt and other out-of-state powers like Platte County, Mo., and Iowa City West.
Only St. James Academy scored higher than Baldwin among the Kansas teams in the tournament.
"I was very proud of our team for how well they competed," Baldwin wrestling coach Kit Harris said. "We finished ahead of a lot of very good big-school teams and we didn't wrestle nearly as good as we can. You never really know how a team will perform at the start of the year, but I think this year's team could really be a good one."
It was a team effort with experienced leaders and young wrestlers contributing to the success, Harris said.
"We are a pretty balanced team from top to bottom," he said. "That is always good. When one kid either has a bad tournament or is just in a tough bracket, we have plenty others available to score points."
Junior Tiler Garcia was the highest-finishing Bulldog, compiling a 3-1 record on his way to a second-place finish at 220 pounds. In his first high school action, freshman Thomas Lisher earned a fourth-place finish at 126 pounds with a 3-2 record.
Senior Tucker Clark went 4-1, garnering a fifth-place finish and collecting the 99th win of his high school career.
Baldwin will next compete Friday and Saturday in the 24-team Eudora Tournament of Champions.