Lawrence Journal World honors
BHS

father, son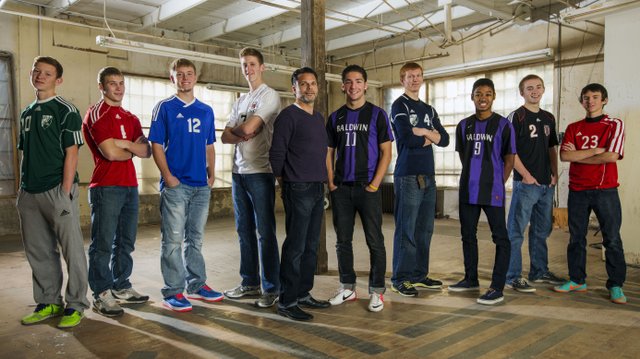 Player of the year: Nicholas Joslyn,
Baldwin
The playmaker and tempo-setter for a Baldwin team that rolled through the regular season and finished fourth overall in the Class 4-3-2-1A state tournament, Joslyn played all over the field for his coach (his father, Mark), scoring 16 goals and setting up his teammates with 17 assists.
Coach of the year:
Mark Joslyn, Baldwin
The Bulldogs finished 2013 at 17-3-1, a program record, and went unbeaten (10-0-1) in home games before advancing to the state tournament's final four — another Baldwin soccer first. Coach Joslyn's team won its third straight 4-1A regional title and finished fourth in the tourney.
First team
Chris Allen, Free State — A senior captain, the Firebirds center-back played a more defensive role for much of the fall but still made plays for the FSHS attack, registering two goals and two assists. Allen's versatility allowed him to stay on the field without getting a break.
Brandon Church, Ottawa — A varsity starter since he arrived at OHS, the senior striker not only served as a team leader, but also proved an exceptional finisher due to his ball control. Church scored 11 goals and passed out a team-best nine assists.
Russell Cloon, Baldwin — With speed to do whatever his team needed in that moment, the senior midfielder could support Baldwin's defensive backs or take control of the ball and push an attack. Cloon's pace and technical skills helped him account for 13 goals and six assists.
Connor Henrichs, Lawrence — A veteran on a young Lions roster, the senior played his final year as a midfielder and could be counted on to shut down an opponent's top goal-scorer or ignite an offensive push. Henrichs, a four-year starter, finished with three goals and four assists.
Asher Huseman, Tonganoxie — Both dynamic and creative with the ball at his feet, the junior forward specialized in accuracy and power when he fired shots at opposing goalkeepers. Huseman could beat defenders one-on-one as well, leading to his team-best 18 goals and six assists.
Austin Johanning, Perry-Lecompton — The Kaws' senior leader rarely stepped off the field. Johanning averaged more than 75 minutes a game as PLHS finished 13-5. The defensive-minded midfielder knew when to deliver on offense, too: Two of his three goals were game-winners.
Nicholas Joslyn, Baldwin — A critical link between Baldwin's lines of attack, the center midfielder attacked and defended throughout the Bulldogs' record-breaking season. One of Joslyn's numerous game-winning scores came in the state quarterfinals against Bishop Ward.
Dustin Seibolt, De Soto — A bout with mono kept the senior midfielder out of the Frontier League champions' lineup for five games, but he still provided 10 goals and nine assists for De Soto (12-5-1). Seibolt leaves as the No. 3 career assist leader (27) in program history.
Connor Stepp, Ottawa — Just a junior, the Cyclones midfielder meshed well with Church and the rest of his teammates. Stepp's approach to the game and excellent ball control helped him lead Ottawa with 13 goals, and he distributed seven assists.
Eric Williams, De Soto — The senior goalkeeper defined toughness. Not only did opponents put just 13 of their 77 shots on goal past Williams, he broke his nose during one game, stayed on the field to man the net and never wore a mask the rest of the season to protect his busted schnoz.
Honorable mention
Alejandro Carlos, De Soto; Colin Coleman, Perry-Lecompton; Parker Davies, Lawrence; Joel Dixon, Baldwin; Kelly Latshaw, Eudora; Will Laufer, Free State; Camden Leary, Eudora; Daniel Munoz-Crow, Perry-Lecompton; Alex Stepp, Ottawa; Evan Stilgenbauer, Tonganoxie; Alex Trent, Free State; and Alex Young, Eudora.