Baldwin girls notch first victory of season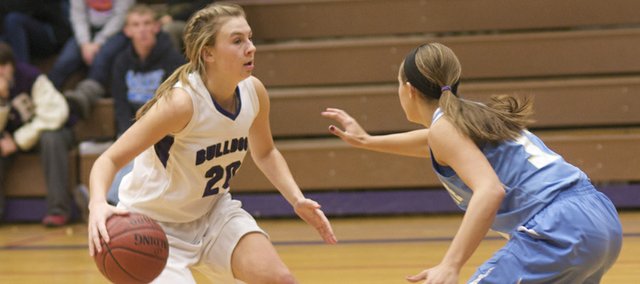 The Baldwin High School girls basketball team used a balanced scoring attack Monday to down Chanute, 55-47, in their first game of the Bulldog/Wildcat Classic.
With last year's leading scorer Katie Jones limited with foul trouble, three Bulldogs stepped up to score in double figures with junior forward Corey Valentine leading Baldwin with 13 points.
The Bulldogs pulled away from the Blue Comets in the second quarter when they outscored Chanute 16-9 to take a 27-14 lead into the locker room.
The team returned to the floor in the third quarter with the same focus, once again putting up 16 points to the period. It was crisp display that saw the Bulldogs commit only three turnovers in the eight-minute period.
That changed in the fourth quarter when Chanute slapped a full-court press on the Bulldogs. Baldwin's 19-point lead at the quarter's start shrank as the team committed 11 turnovers in the final eight minutes.
Baldwin coach Bob Martin said it was nice his inexperienced squad was able to face a press in a game situation with a comfortable lead, but added the Bulldogs obviously did not handle Chanute's pressure well.
"We did a lot good things tonight, but we obviously made a lot of mistakes," he said. "Our eyes got too big. We saw things down the court that weren't there.
"That's all experience."
Baldwin compounded its sloppy ball handling with 7-for-14 shooting from the free-throw line in the fourth quarter. But despite all their woes, the Bulldogs were never in danger of losing the game.
One positive for Baldwin through the first two games has been Valentine and junior Maddie Ogle's work on the offensive boards, which they often convert for points.
"We need that from them," Martin said.
Baldwin completed tournament pool play against Iola on Wednesday, which fell 35-27 to Chanute on Tuesday. Baldwin will play Friday against a yet-to-be determined opponent from the other pool.
Baldwin 55, Chanute 47
Baldwin 11 16 16 10 - 55
Chanute 9 6 9 23 - 47
Baldwin scoring: Sierra Hall 2, Madeline Neufeld 6, Katie Jones 5, Corey Valentine 13, Alexia Stein 10, Hailey Cope 9, Maddie Ogle 10
Chanute scoring: Katie Martin 1, Katy Batten 5, Paige Kidwell 6, Anna Bagshaw 23, Madi Rollins 8