Baker University fall 2013 degree candidates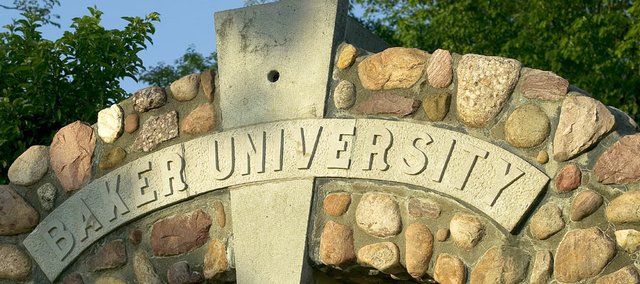 Bachelor of Arts
Kelli Shae Doolittle, middle level English and education; Lindsay Leibach, international studies; Anna Jane Richards, biology; William Joseph Schowalter, English and secondary education; Maranda Stendebach, middle level English and education; Ryder Lee Werts, sociology; Victoria May Whitebread, English.
Bachelor of Music Education
Paul Leonard Eltschinger, Priscilla S. Roberts
Bachelor of Science
JaNay Adgers, mass media; Garrett Lee Andersen, sociology; Gloria Atanmo, interdisciplinary major in mass media and art; Christopher Atlakson, sociology; Brittany Ann Barker, elementary education; Samantha K. Brandt, psychology; Kyle C. Brown, business; Lindsey Marie Brown, mathematics and secondary education; Kaitlyn A. Butler, biology; Caitlin Campbell, business; Alexa Clark-Clements, business and accounting; Finola Emily Corley, sociology; Blaine K. Crow, physics; Daniel L. Davis, computer science; Joshua Amos Fairley, business; Devin A. Freeman, health/physical education and secondary education; Donald Terence George, biology; Jordan Ausar Honore, business; Madeline K. Imlay, business; Kelley L.J. Jenkins, business; Bethany Lee Kempher, economics; Bryan William Kindle, mathematics and secondary education; John Patrick King, theatre, music and business; Richard Laszlo Klein, exercise science; Eldina Kunic, sociology; Hannah Kathleen Miller, business; Previn Moore, business; Jacob S. Morse, physical education; Joseph M. Naughton, sports administration; Joel E. Olivas, sociology; Lucas Roepke, business; Miles R. Sanderson, biology; Colter Lane Scott, sports administration; Darrick Vester Smith, business; Seth Gabriel Snavely, interdisciplinary major in sociology and religion; Amanda Renee Tesson, mathematics and secondary education; Consuelo Salyna Webber, business; Jeremiah Zaccheus White, exercise science; Frank R. Whittier, economics; Nicholas A. Williams, mass media.
School of Nursing
Bachelor of Science in Nursing
Jennifer Andrews, Sara Pantos Busby, Tisha Helen Chavez, Christi Leann Colley, Allison M. Decker, Suzanne L. Duckworth, Michelle Lynn Eitel, Sarah Elizabeth Ernst, Morgan DelRae Flewelling, Shannon Renee Good, Katelyn Renee Goodman, Monica Renee Gumley, Leslie Christina Hart, Johna Lea Herrera, Saige Renee Huninghake, Mary Patricia Jones, Sarah Elizabeth Keenan, Olivia Louise Kennedy, Haley Marie Knowland, Amanda Nicole Loner, Shasta Lee Long, Jessica Luvisi, Paula Jean Mattern, Emily Marie McGinnis, Sarah Nicole Mead, Britanny Nicole Miller, Sarah Ann Nichols, Cynthia Ai Orser, Parth S. Panchal, Kelsey R. Pearson, Alyssa LeAnne Phillips, Melanie Lynn Rettele, Natasha Ross, Stephanie Lynn Samson, Kristen Rene Skillin, Demetria Mikcael Swindell, Elizabeth Leigh Taylor, Jamie Lee Taylor, Kristina Nicole Vazquez, Stephanie A R Walters, Rebecca Jeanette Wharton, Beth Whitworth, Melanie Rae Wiens-Kind.
Associate of Arts in Business
Peggy Brooks Akers, Cheryl D. Alvarado, Anita Renee Bean, Tamra La"Ra Beatty, Jessica A. Billings, Chapin Bohnert, Carmelita Brooks, Michelle Lee Chalkley, Timothy S. Conely, Craig James Cozadd, Lisa Darleen Dale, Angela M. Dalrymple, Justin Damian Esquivel, Kristi Lynn Flaming, Pamela K. Frederickson, Beth French, Justin Garner, Jason Gonzalez, Tina Marie Graham, Ryan Zachary Hale, Heather Dawn Haney, Justin Joseph Hoge, Marquita Rae Hutchinson, Justin Glen Hutton, Gary T. Irvin II, Lucas D. Jackson, Melissa D. James, Mary Frances Kalous, Francis W. Kelly, Ronda Kirk, Sheila R. Leach, Wayne Leak, Brandon Michael Lee, Lanea Dawn Losson, Barry James Mathia, Daniel J. McConnell, Julie K. Munker, Justin P. Nichols, Pamela L. Opoka, April G. Ornelas, Anthony Ortega Jr., Quanli C. Redick. A.R. Reynolds, Jennifer Kaye Rose, Marilyn L. Rose, Alexandra M. Schlegel, Kyle Grant Schooley, Treva D. Smith, John Duane Stithem, Vicki Stranathan, Jenna J. Stum, Cynthia Rae Tompkins, Holly Leigh Waugh, Misti R. Wright.
Bachelor of Business Administration
Lyndse Leigh Adams, Brooke Renee Alexander, Quinton S. Alexander, Mark James Allen, Bradley Joseph Amaro, Aaron G. Austin, Sarah Marie Ayler, Josie L. Baker, Andrew Balaun, David Matthew Barbour, Erin Bargmann, Karen J. Berwind, Michael Scott Blakeman, Wade E. Bruendl, Jeremy Buss, Matthew G. Cady, Adam Gene Call, William L. Carroll, Britanny Lynn Carter, Johnathan E. Cheek, Ayana T. Chism, Kristin M. Chooncharoen, Jason Cloud, DeShonte R. Cobin, Stewart Morton Cockrell, Donna Y. Collie, Jeffrey Jayde Allen Corwin, Amanda Crutchfield, Jodi Lynn Cunningham, Patrick Edward Daly, Michael Shawn Denton, Rod Thomas DeWinkler, Maureen A. Ditto, Corey A. Epping, Natalie J. Flood, Andrea Gambill, Carol Gannaway, Joshua Gardner, Ashley N. George, Janice Gilmer-Gentry, Patrick Lewis Golden, Brian Luis Gomez, Sarah N. Gray, Adriene Guillemette, Edwin G. Hailey, Luke J. Hillin, Heather L. Ramsey Hoffmans, Michael J. Hogg, Donald R. Hughes Jr., Gina Hunter, Priscilla A. Janas, Jason Gabriel Jennings, Dayshafawn Carmen Gwen Johnston, Kelly Lynne Laffere, Michael A. Langley, Denise C. Lantz, Alejandro Lozano, David Luther, Jeffrey Alan Maples, Chelsie Jean McCullough, Jamie Rae McKnight, Petros Mekonnen, Joshua C. Morris, Charles Raymond Mounkes, Jason James Norris, Korey L. Parker, Laura Kathleen Penhallow, Anna M. Perina, Joseph Robert Poole, Todd Patrick Preston, Colleen Jackloski Price, M.H. Ramsey, Roy L. Reardon, Amanda Reynolds, Kelly R. Rhea, Dave F. Rice, Melody A. Richard, Sophea S. Rodriguez, Kristy A. Rubio, Nicole A. Salazar, Shannon Sanders, Courtney Sands, Donald R. Sherman, Barbara A. Shields, Erin Dell Shuford, Tami Diane Smith, Kelsey A. Stecher, Sergei Sukiasyan, Jennifer M. Szekely, Adam Lenox Taylor, Nancy Tellez, Niel A. Temples, John R. Thomas, Kareem G. Thomas, Alan W. Thompson, Shawn Robert Tiemann, Reginald D. Townsend, Danielle Marie Trout, Paul C. Vera, Brandon Christopher Vogts, Blair Welsh, Maureen Claire Werner, Craig West, Roy S. Wheeler, Michael Anthony White II, Mathew Benjamin Wooddell, Daniel J. Yoger.
Bachelor of Science in Management
Victoria Norine Anderson, Tiffany Cornley, John Dempsey, Crystal Dixon, Paula D. Duckett, Lucas Scott Eiman, Kelly Lynn Farr, Anthony William Green, Brandi Elaine Houck, Adrienne Y. Johnson, Charles Wade Land, Benjamin D. Melton, Cary Ann Moody, Michael Moody, Farooq Nawaz, Phillip Wayne Oliver, Carla Elizabeth Perkins, Craig Warren Perkins, John Lewis Rawlston, Sandra D. Robinson, Travis N. Sill, Nicole Shirann St. John, Dorothy P. Traylor, Jeffrey A. Wells, Darryl Lynn Williams, Kelli J. Woolsey.
Bachelor of Business Information Systems
Gregory Marshal Bickel Sr., Carmen Joy Campbell, Stephen Frederick Jordan, Darren Knopp.
Bachelor of Arts in Business Leadership
Tara Collet, Hinano J. DeBarthe, Brandon J. Foresee, Jeremiah Brandon Krieg, Ricky D. McGowan, Keith Rackley, Gigi D. Woodard.
Doctorate of Education in Educational Leadership
Jill Marilyn Kenton Bergerhofer, Tamekia N. Brown-McCauley, Kristen Annette Childers, Kathleen Marie Collier, Jennifer Rae Dancer, Britton Nathaniel Hart, Jessica Marie Kyanka-Maggart, Leigh Anne Neal, Rebecca Lynn Presley
Master of Arts in Education
Erin Elizabeth Angles, Kellie R. Atkinson, Vanessa Lynn Ayers, Amanda J. Backhus, Mary Suzanne Beck, Allison Whitney Black, Carol Jean Blackburn, Lisa Michelle Boone, Michelle Borger, Charlotte Anne Brickman, Georgia Bridges, Ruana Brock, Amy Michelle Calhoun, Chelsea Carver, Kara Alison Chastain, Melisha Colon-Ramos, Abby Diane Cunningham, Kenneth Wayne Driskill, Anna Elizabeth Falls, Erica Florez, Amanda Kay Fogelman, Lacey LeAnn Ford, Cathy L. Foster, Margene Olaug Kehr Furnell, Rebecca Giggy, Kayla Rachelle Guenther, Elizabeth A. Harding, Ashley Hersh, Anthony Hile, Anya Carrae Holland, Allison Hoyt, Michelle Nicole Hunt, Jenny Lea Hurlbut, Beth Ann Johnstone, Todd Junker, Alyssa N. Kelly, Michelle Ann Kern, Keith Joseph Kerschen, Rachel Jean Kerschen, Cody Layne Kitzke, Stacy L. Lee, Megan Anne Litchkowski, Julia Malmquist, Jordan Ryan Martin, Emily Martinez Izquierdo, Brian J. Means, Amy Jo Moore, Meredith Elizabeth Morris, Brett Allen Mowry, Kelli Ann Neal, Natalie Lynne Nelson, Paul Niland, Jennifer Elaine Nixon, Annett S. O'Hara, Jessica L. Oliver, Joni Marie Peterson, Ryan Douglas Pfeifer, Amanda S. Pope, Tamar Ann Pratt, Gentry Mae Sauder, Sara Seeman, Tina M. Shaginaw, Rebecca Erin Shore, Andrea Meli Smith, Megan Nicole Smith, Troy Allen St. Clair, Andrea Stauch, Kimberlee Stiffler, Emily Rose Storck, Jennifer Storey, Amanda Evonne Sweet, Jennifer Decker Taylor, Lauren McCord VanDyke, Callie Weitzel, Melissa Lou Yochum-Green.
Master of Science in School Leadership
Nathan E. Bauman, Polly A. Blum, Justin E. Bode, John Glenn Cox Jr., Galen Craghead, Rosemarie Dicus, Brian David Driskell, Deborah Leann Ebbert, Kyle John Ellis, Cassie J. Gorman, Jennifer Louise Hastings, Johannah Jocene Hein, Ashley R. Humiston, Sherry D. Jackson, Jay R. Johnston, Tamera Kay Jordan, Abigail Margaret Knoblauch, Eileen Lorraine Lee, Terah C. Leepers, Eric Dion Lolar Sr., Bruce Lee Lolling, Michael A. Magness, Jennifer N. Maleta, Brooke Renee McDonald, Chad Ryan McFarland, Ruth E. Mott, Kristen Leigh Potter, Darla Sue Raile, Melinda Kay Rangel, Edward Vance Raschen, Vicki Lynn Schmidt, Garrett W.L. Scritchfield, Kayla Ann Scritchfield, Leslie Irene Simons, Loren Boone Smith, Stacey Lynn Sperry, Devon Rafael Teran, Clayton D. Urbanek, Jonathan S. Wiebe, Shalon Worcester.
Master of Science in Special Education
Timothy Coleman, Kaleigh N. Cook, Sara Joan Cosse, Angie D. Courtney, Nicole Renee DeJongh, Christine H. Edmundson, Courtney Laci Heigel, Laura Elaine Henry, Tiffany Jaye Rose Hopkins, Teresa Kelley, Mary Jean Larson, Jaclyn Marie Sanders, Tamara Lynn Zillig.
Master of Science in Teaching
Andrew Thomas Gower, Reed Howard, Sarah Killenberg, Robert Thomas Sack.
Master of Business Administration
Christopher Matthew Able, Jeanne Rene Ainsworth, Leslie G. Alzaiti, Cori Snider Anderson, Dagninet Getaneh Ayele, Jodi Michelle Bachelor, Matthew Patrick Baird, Justin Bealhen, Christopher Ryan Benson, Angela Marie Bethel, Brandi Michelle Bobo, Nicholas Bralley, LaShonda Janae Brown, Stephanie Rae Brown, Thomas Leighton Broxterman, Elisia L. Bryant, Brett Edward Cahill, Todd A. Calhoun, Chyanne Lockhart Cardarella, Christopher M. Coffey, Angela S. Collum, Christopher Adam Correll, Michael Christopher Davis, Megan Deines, Sheyvette Denise Dinkens, Gayle Donaldson, Johnathan K. Doyle, Alex Saichiro Dunn, Andrea Ferro, Teresa Darlene Flournoy, Kevin E. Foth, Heidi R. Gilges, Andrew S. Gillies, Tina Marie Hollister Gimbert, Jennifer Diane Goetz, Elisha Lynn Gorup, Andrea Jean Hasenauer, Jason Eugene Lee Hawkins, Karree Ann Hedden, Richard Frederick Hinkle, Kimberly Hoiting, Lance Holaday, Tiffany A. Hood, Adam Wayne Howell, Christopher Michael Hubbell, Jennifer R. Hurst, Antonia R. Jackson, Gregory Demeterce Jackson, Brandon Terrell Kendrick, Nathaniel King, Adam J. Koontz, Jason LaRue, Tracy Donald Laughery, Margaret Long, Deborah Mutheu Maingi, Joshlin Martinez, Danielle Mayer, Daniel Walter Meyer, Sarah E. Neff, Kevin L. Nelson, Christopher L. Noel, Mark William Patek, Sheena Marie Payne, Mario Enrique Pereira, Felice Pope, Jason Prestridge, James Daniel Pugh, Patrick Alan Riley, Eperanza M. Roberts, Nicole Messiter Rodricks, Frank J. Scheck, Jennifer Lynn Schmidt, Kenneth Ryan Scott, Vaurn Sharma, Heidi Linn Shelton, Jocelyn Cavalles Shute, Amanda M. Siler, Justin L. Smith, Troy L. Stanton, Brandon S. Stec, Tricia Ann Steel, Walter W. Steimeil, Bradley Scott Stephenson, Adam Michael Symanski, Michael Ray Taylor, Candace D. Temple, Teesha A. Thomas, J.P. Tiengo, Donna L. Tilden, Kaitlyn Michelle Tribble, Jonathan M. Uhart, Bufford Walker, Ashley Margaret Warren, Dustin Alan Washam, Mark R. Watson, Coy Wayne Weege, Taylor Suzanne White, Davette L. Whitney, Brandon Keith Wilson, Antwan De'Andre Winkfield, Erin E. Wold, Brent K. Woods, Andrew Eric Wright, Xiang Feng Zhang, Anthony Zucco.
Master of Science in Management
Hophine O. Bwosinde, Chris DeForest, Sara Lynn Dilks, Nilo Aristion Landeo Espinoza Fanska, Kathryn Godsey, Tammy Jo Johnson, Jennifer J. Keffer, Gerri Lynn McQueen, Matthew M. Mitchell, Pedro P. Ortiz, Jeannie Lyn Shrankler, James P. Wareham
Master of Liberal Arts
Samad Joel Ahmadian, Tishana L. Alexander, Ona Ashley, Shannan Denise Barnes, Shawn M. Barry, Matthew E. Bays, Sheila Marie Bays, Tina Nicole Beal, Michael Coldwell, Alisha Beth Cox, Ryan Andres Harrison, Philip W. Kinney, Jeanette Maria Lamb, Joshua Holt Larson, Kevin W. Lyon, Michael B. McDonald, Amy Asiu McGonigle, Michael David McMaster, Peggy Monsees-Hill, Ryan L. Pappan, Antoinette C. Pickett, J. Noell Riley, Jeremy Simmons Cope, Taryn Joy Temple, Jessica L. Uhler, Matthew Wolfe.