Baldwin boys pull away late to win opener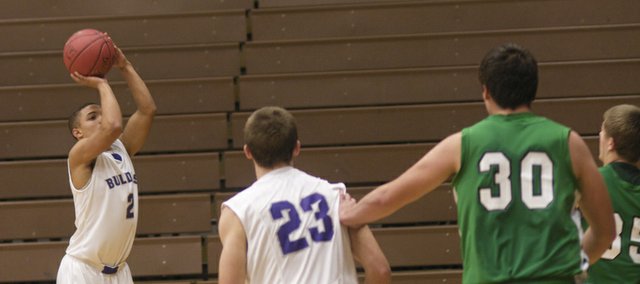 The attractiveness of the Baldwin High School boys basketball season-opening 42-33 victory against Jefferson County North was in the eye of the beholder.
"A lot of people would call that an ugly win, but I call it a beautiful game," Bulldog coach Dustin Leochner said. "They took us out of our confidence zone. We showed a lot of maturity, basketball intelligence and savvy in getting the win."
The visiting Chargers' zone was at the core of Baldwin's discomfort. Unable to connect from the outside — the Bulldogs only hit on 5 of 15 three-pointers — Jefferson County packed in the zone, making it difficulty for Baldwin to find gaps in the defense or get the ball inside.
Leochner said the zone wasn't unexpected and the team practiced for it extensively this week. But he credited Jeff County coach Jeff Brickell with devising a game plan that gave the visitors a chance to steal a victory.
The visiting Chargers weren't able to take advantage of the Baldwin's offensive woes because they were equally offensively challenged against Baldwin's man-to-man defense, finishing the game with 15 turnovers and 10 field goals. With both teams finding it difficult to get shots, much less score, the first quarter ended in a 2-2 tie.
fter heading to the halftime locker room trailing 17-16, Baldwin got its first separation early in the second half when it went on an eight-point run featuring back-to-back three-pointers from seniors Cornell Brown, who led all scores with 19 points, and Tim Craig. Baldwin would never give up the lead.
With a 32-30 lead and the ball with 4 minutes left in the game, Baldwin's Brown dribble the ball at half court for a full minute before the stubborn Chargers finally abandoned the zone. It didn't pay off in that possession, which ended in a turnover, but it did lead to the Bulldogs scoring eight-straight points in the game's waning minutes.
Loechner said he considered going into a stall to pull Jeff County out of the zone earlier but held off because he thought the team needed work attacking the defense he expects to see a lot in future games. To get more effective, the team would have to improve its entry passes into the post, he said.
The Bulldogs will only have a Saturday practice to work on improvement before it takes the floor again against a big, physical Chanute team in the first round of the Bulldog/Wildcat Classic. The game starts at 7:30 p.m. Monday at the Baldwin Junior High School gymnasium.
Baldwin 42, Jefferson County North 33
BHS 2 14 14 12 – 42
JCN 2 15 9 7 – 33
Baldwin scoring: Cornell Brown 19, Tim Craig 6, Luke Fursman 9, Michael Burton 5, Quinn Twombly 3
Jeff County North scoring: Ty Brickell 2, Shawn Lane 7, Bryce Noll 2, Luke Pyle 15, Elijah Meyer 7