Lynne Murray introduced as Baker University's next president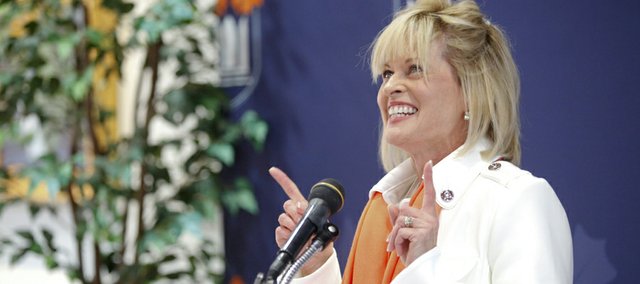 As she was introduced this morning as the next president of Baker University, Lynne Murray said the day was not about her.
Lynne E. Murray
Hometown: St. Mary's City, Md.
Education: Bachelor's degree in English from St. Mary's College of Maryland; Master's degree in marketing from Johns Hopkins University; Doctorate in special education administration, Gallaudet University
Family: Married to Jeff Murray
Experience includes: assistant producer of Maryland Public Television System, 1988-1993; director of development and marketing for Youth Service America, 1993-1995; development associate for corporate relations, Johns Hopkins University School of Medicine, Children's Center, 1995-1997; development positions with Gallaudet University, 2001-2008; senior director of principal and leadership gifts, Georgetown University, 2008-2010; vice president of development, alumni and international relations at Gallaudet, 2010-present
"It's about us and what we can achieve together," Murray told those gathered at the president's residence for the announcement.
"When walking through this wonderful campus, I was touched by you, the excellent staff, faculty and students who shared your stories with me."
It was that inclusive quality that made an impression on committee members charged with selecting the person who will succeed Pat Long as Baker's 29th president.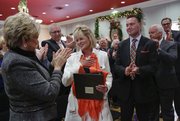 Murray, vice president of development and alumni and international relations at Gallaudet University in Washington, D.C., was one of three finalists who visited the campus last month and one of nine candidates interviewed for the job.
Baker President Long announced earlier this year that she would retire June 30, 2014, from the position she's held since 2006. Murray said she would visit the campus frequently in the next six months before starting as president July 1, 2014.
Hoot Gibson, chairman of the Baker presidential search committee, said it was apparent that Murray was an engaging, open person and genuinely excited about Baker.
It was her openness that set her apart, said Zach Aldrich, student representative on the search committee.
"Being a student and being on campus, I was hoping for someone engaging and outgoing," he said. "When I first met Dr. Murray, she was all that. "
Murray worked in Gallaudet's office of development from 1997 to 2007 and was its director for five of those years. Before returning to her present position at Gallaudet in 2010, Murray worked as senior director of advancement at Georgetown University.
At Gallaudet, Murray led a $79 million fundraising drive to support scholarships, faculty excellence and academic programs, Gibson said. She was one of the leaders of a $500 million scholarship fundraising campaign at Georgetown.
Aldrich said Murray's open personality would be a plus in fundraising.
"To be a good fundraiser, you have to make quick connections," he said. "I've talked with her three or four times. Each time she remembers something from our last conversation."
In comments made at a November gathering at which she was introduced as a finalist, Murray said she was a "small-town girl," having earned her undergraduate degree from St. Mary's College of Maryland, which was a block from her childhood home in St. Mary's City, Md. She went on to earn a master's degree in marketing from Johns Hopkins University and a doctorate in special education administration from Gallaudet.