Baldwin wrestlers open at tough Gardner event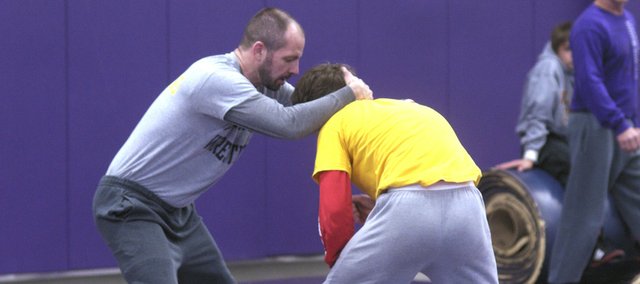 The Baldwin High School wrestling team is entering a new season with a new home.
The team moved its mats and gear this year from the south gym to the multi-purpose room in Baldwin Junior High School. There the team is training to maintain the program's recent success, which includes two straight Frontier League championships and team members qualifying for the state tournament and winning individual state titles.
The team has 33 wrestlers this year and has 11 returning varsity wrestlers.
"We have a real good returning group and some JV wrestlers who have experience on the varsity," coach Kit Harris said. "I think we will definitely compete for the league title."
Bulldog lineup for Gardner
106-Levi Green, Freshman (Kids State Placer)
113-Ben Morgenstern, Sophomore (League Placer-3rd)
120-Max Tuckfield, Freshman (first-yr wrestler)
126-Thomas Lisher, Freshman (Kids State Champion)
132-Ben Huntington, Senior (2 eyar Letterman )
138-Tucker Clark, Senior (3 time state qualifier, Regional Finalist)
145-Jon Pratt, Junior (State Placer, 2 time League Champion)
152-Grayson Langham, Senor (3 year Letterman)
160-Owen Tuckfield, Sophomore (Team KS Wrestler, Letterman)
170-Joel Katzer, Sophomore (Undefeated JV, Team KS Wrestler)
182-Joel Halford, Junior (League Runner-up)
195-Mario Garica, Junior (State Qualifier)
220-Tiler Garcia, Junior (State Qualfier)
285-Jake Katzer, Sophomore (JV Wrestler of the Year)
The latest Bulldog wrestler to win gold at state was Bryce Shoemaker, who won a state title as a freshman and senior. Shoemaker, who will wrestle for Baker University this year, serves as an example for two of the team's four returning state qualifiers, junior Jon Pratt, fifth at state last year at 120 pounds, and senior Tucker Clark, who finished last year with a 2-2 record at state.
Harris said the two are the leaders of 2013-14 Bulldog squad.
"Tucker is a three time state qualifier," Harris said. "He's well respected by the team. He's really taken charge of this team."
Clark said his goals for the year were to medal at state and help the team defend its league title.
"We have a lot of new wrestlers," he said. "I'm excited to see how we do when we compete."
One newcomer he is eager to watch wrestle is freshman Thomas Lisher (120 pounds) a kids state champion last year, Clark said. He also takes time to watch his friend Ben Morgenstern, who wrestles at 113 pounds, he said.
Clark will move up one weight class to wrestle at 138 pounds this year, and Pratt will jump four classes to wrestle at 145 pounds. Mario Garcia will move from 180 to 195 pounds, and Tiler Garcia will remain at 220 pounds. The Garcias are two of squads' stable of wrestlers in the upper weights.
"We're going to surprise people in the upper weights," Harris said, citing depth in the 182 pound weight class with sophomore Joel Katzer and junior Joel Halford and at 195 pounds with Mario Carcia and Jake Katzer.
The Bulldogs will start the year Saturday at the Gardner tournament. Baldwin will be the only 4A school in a field of top Kansas 5A and 6A programs and nationally ranked teams for Iowa, Missouri, Nebraska and Oklahoma.