Grand marshal to make splash at Festival of Lights Parade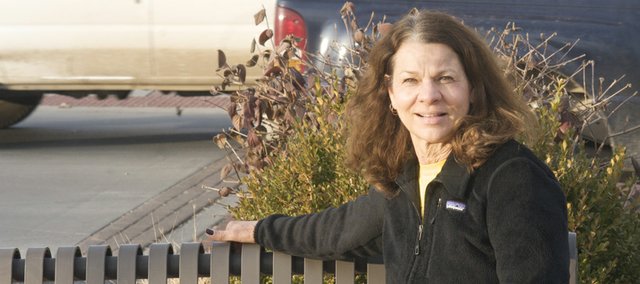 Nancy Arnold will be recognized Saturday for years of service to the community in much different weather than is predicted for this weekend.
Arnold, a swimming instructor, will be the grand marshal of Saturday's Festival of Lights Parade, an honor that will earn her a ride in a convertible on what is expected to be a chilly night. Baldwin City Recreation Commission parade organizer Tammy Michael named Arnold as grand marshal for her part in teaching two generations of community children how to swim.
"I told Tammy I'd do it if she could guarantee a nice balmy day," Arnold said. "It will be OK as long as the car has a good heater, and I have a couple of blankets."
Arnold first started giving swimming lessons more than 40 years ago after getting her water safety license as a freshman at Baker University. She has doubled up many of the last 20 years as director of the city pool's summer program.
"I've done that off and on," she said. "I'd step aside when they found someone else to do it and then took it back on when that person left."
The jobs were good fits for Arnold, who has been a physical education teacher at Edgerton Elementary School the past 35 years.
"It's a perfect summer job for a teacher," she said.
The pool's program has grown in recent summers. Michael, who manages the pool for the recreation commission, attributed much of the growth to Arnold.
"The whole community loves her," she said. "We've had people come from Ottawa, Gardner and Edgerton to take lessons here because of her. Kids she's taught in school are bringing their kids here now.
"She has everything coordinated and organized. She can be talking to a parent, working with a student and helping an instructor. She's great at multitasking."
With her length of service, Arnold has witnessed many changes. The biggest was the opening of the new pool in 2000.
• Festival of Trees, 9 a.m. to 6 p.m., Lumberyard Arts Center, 718 Main St.
• Holiday art sale, 9 a.m. to noon, Lumberyard Arts Center
• Gingerbread House Workshop, 12:30 to 2 p.m. and 3 to 4:30 p.m., Lumberyard Arts Center
• Soup diner, 4:30 p.m., Baldwin First United Methodist Church, Eighth and Grove streets
• Victorian Carolers, 4:30 to 5:30 p.m., Downtown
• Festival of Lights Parade and Santa's arrival, 6 p.m., downtown
"The zero-depth entry made things much easier," Arnold said. "The old pool was two-feet deep on the shallow end. I had the young ones sit on the entry steps of the shallow end and still their feet couldn't touch the bottom."
Among Arnold's many students were her son Shelby and daughters Stephanie and Andrea. With her encouragement, her daughters worked as swimming instructors and life guards at the pool.
"I told them it was a great place to work," she said. "They wouldn't have to spend money on gas driving to Lawrence and they would be with their friends."
This coming summer, Arnold will pass the swimming lesson director duties to Michael. The position took too much out of her summer days, but she intends to keep teaching swimming classes and giving private lessons.
"That's the fun part, being with them in the water when they have that first ah-ha moment," she said. "I teach level-3 of 7-, 8- and 9-year olds. That's about when they put the arm stroke, leg movement and breathing together for the first time."
It is rewarding to witness youngsters make those first strokes, but physical education teacher Arnold also is a passionate advocate of all ages benefiting from swimming to tone muscles, improve cardiovascular health and soothe aching joints.
"Walking, jogging and biking are all good, but swimming is the best physical activity for you, especially as you get older," she said. "Water aerobics, lap swimming or lap walking all help with that. You have people 18 years old to 75 taking part in lap swimming at the pool. So many people say they miss it so much when the pool closes."